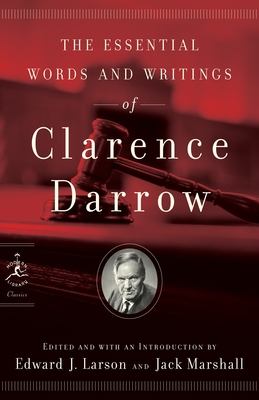 The Essential Words and Writings of Clarence Darrow (Paperback)
Modern Library, 9780812966770, 254pp.
Publication Date: June 12, 2007
Description
The celebrated American lawyer Clarence Darrow was renowned for his spirited, ruthlessly logical defense of populist causes and controversial ideas. Even today, Darrow's words continue to frame public discussion about our civil liberties and our religious and civic life. In this timely volume, Pulitzer Prize-winning historian Edward J. Larson and ethicist Jack Marshall assemble a broad and rich collection of the iconic lawyer's words and writings–opening statements, trial arguments, lectures–accompanied by excerpts from his memoir and annotated with expert commentary. These selections showcase the mesmerizing power of Darrow's passions and ideals, which have lost none of their impact or immediacy with the passage of time.
About the Author
Clarence Darrow (1857-1938) had one of the most influential legal careers in American history. He is renowned for his landmark defenses in the 1924 Leopold/Loeb thrill-killing case and the so-called Scopes monkey trial of 1925, where the debate over evolution first surged to national attention. He was notable as a friend to the underdog, a leading member of the American Civil Liberties Union, and a distinguished speaker on agnosticism, liberalism, and free thought. Edward J. Larson is Russell Professor of American History and Talmadge Chair of Law at the University of Georgia. He is the author of six books, including Evolution: The Remarkable History of a Scientific Theory, published by Modern Library, and Summer for the Gods: The Scopes Trial and America's Continuing Debate Over Science and Religion, for which he won the 1998 Pulitzer Prize in History. Jack Marshall is an adjunct professor of legal ethics at American University and the president and founder of ProEthics, Ltd., which conducts ethics seminars across the country. His articles and commentary have appeared in The Federal Lawyer, Everyday Law, Trial, and The Weekly Standard.
Advertisement