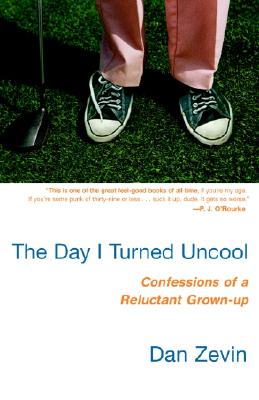 The Day I Turned Uncool (Paperback)
Confessions of a Reluctant Grown-up
Villard, 9780812967227, 192pp.
Publication Date: June 11, 2002
* Individual store prices may vary.
or
Not Currently Available for Direct Purchase
Description
Sooner or later, each of us must face the day we develop a disturbing new interest in lawn care; the day we order sauvignon blanc instead of Rolling Rock; the day we refuse to see any concert where we cannot sit down. Sooner or later, each of us must face the day we turn uncool. Dan Zevin, who "was never exactly Fonz-like to begin with," is having a hilariously hard time moving from his twenties to his thirties, and he confesses everything in these comic not-coming-of-age tales. As he shamefully employs his first cleaning lady, becomes abnormally attached to his dog, and commits flagrant acts of home improvement, Dan's headed for an early midlife crisis—and a better-late-than-never revelation: Growing up is really nothing to be reluctant about. In fact, it's very cool.
Praise For The Day I Turned Uncool: Confessions of a Reluctant Grown-up…
"This is one of the great feel-good books of all time, if you're my age. If you're some punk of thirty-nine or less . . . suck it up, dude. It gets so worse." —P. J. O'Rourke "A shrewd and witty observer of Gen-X mores . . . Zevin has a prose style that's a blend of Dave Barry and P. J. O'Rourke." —The Boston Globe "If Dan Zevin's so uncool, how come he's so funny? This is a witty, sharply observed book about the embarrassing compromises and guilty pleasures of adulthood."—Tom Perrotta, author of Election and Joe College"Dan Zevin is so uncool he's cool. His cogent and hilarious self-deprecations are literature's answer to the elasticized waistband: They forgive." —Henry Alford, author of Big Kiss
Advertisement