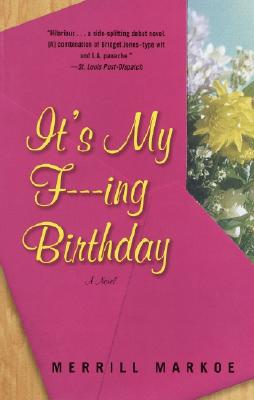 It's My F---Ing Birthday (Paperback)
Villard Books, 9780812967241, 224pp.
Publication Date: December 24, 2002
* Individual store prices may vary.
or
Not Currently Available for Direct Purchase
Description
It's My F---ing Birthday unfolds in seven state-of-my-life addresses a hapless high school art teacher writes to herself on consecutive birthdays. Through outrageously funny years of needling parents, self-absorbed boy-friends, riots, O.J., and Monica, she navigates a circuitous (and ultimately successful) route to happiness in a world where everything seems to conspire to the contrary.
About the Author
Merrill Markoe was the original head writer of Late Night with David Letterman, and she has won five Emmys for comedy writing. She was also a regular contributor to Not Necessarily the News and wrote and performed in several comedy specials for HBO, winning Writers Guild and Ace awards. She is the author of What the Dogs Have Taught Me, How to Be Hap-Hap-Happy Like Me, Merrill Markoe's Guide to Love, and a children's book, The Day My Dogs Became Guys. She lives in Los Angeles.
Praise For It's My F---Ing Birthday…
"Funny in a sly, true, painful way."—Los Angeles Times

"On-target, poignant . . . a study of one woman's evolution from passivity to self-esteem."—The Washington Post

"Witty . . . [Markoe] finds humor in those not-so-Kodak moments. So will you."—Glamour

"Bickering parents, weird sex, and ambiguous floral arrangements pave the road to enlightenment in legendary comedy writer Merrill Markoe's first novel. . . . Along the way she reminds readers that the heart is a fragile little critter. And sometimes the best we can do is make a wish and blow those candles out." —O magazine

"A dark, witty story about one woman's attempt to find the right man and not kill her mother." —Talk

"Witty . . . Markoe's very funny and astute about women's insecurities." —The Hartford Courant

"Perfect for curling up with at the end of the day when we long for the company of good friends, but they've all gone to bed. You know, after watching the Late Show." —St. Petersburg Times

"Laugh-out-loud debut fiction . . . classy stuff that deserves tons of flowers from dazed and satisfied readers." —Kirkus Reviews

"[Markoe] brings her crisp, gratifyingly feminist sense of humor and flair for satirizing the lives of frustrated singles to an irresistible first novel." —Booklist

"The perfect gift for all women who face birthdays with grim determination, pepper spray and sharp fingernail files . . . Markoe teaches the joy of laughing through pain and bubbling through toil and trouble." —Publishers Weekly
Advertisement