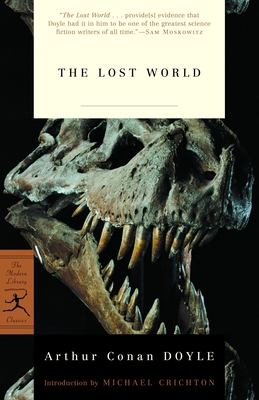 The Lost World (Modern Library Classics) (Paperback)
Modern Library, 9780812967258, 272pp.
Publication Date: January 14, 2003
Other Editions of This Title:
Paperback (9/25/2019)
Paperback (1/14/2019)
Paperback (12/22/2015)
Paperback (10/3/2018)
Paperback (11/7/2014)
Paperback (5/29/2017)
Paperback (12/4/2019)
Paperback (3/3/2019)
Paperback (2/5/2016)
Paperback (9/21/2017)
Paperback (4/27/2013)
Paperback (4/24/2019)
Paperback (7/19/2019)
Paperback (2/2/2012)
Paperback (10/3/2018)
Paperback (9/13/2018)
Paperback (9/16/2016)
* Individual store prices may vary.
Description
In The Lost World, the first in a series of books to feature the bold Professor Challenger—a character many critics consider one of the most finely drawn in science fiction—Challenger and his party embark on an expedition to a remote Amazonian plateau where, as the good professor puts it, "the ordinary laws of Nature are suspended" and numerous prehistoric creatures and ape-men have survived. "Just as Sherlock Holmes set the standard—and in some sense established the formula—for the detective story . . . , so too has The Lost World set the standard and the formula for fantasy-adventure stories . . . ," Michael Crichton writes in his Introduction. "The tone and techniques that Conan Doyle first refined in The Lost World have become standard narrative procedures in popular entertainment of the present day."
About the Author
Michael Crichton's novels include The Andromeda Strain, Congo, Jurassic Park, The Lost World, and Timeline; he is also the creator of the television series ER. He lives in Los Angeles.
Praise For The Lost World (Modern Library Classics)…
"The Lost World . . . provide[s] evidence that Doyle had it in him to be one of the greatest science fiction writers of all time."—Sam Moskowitz