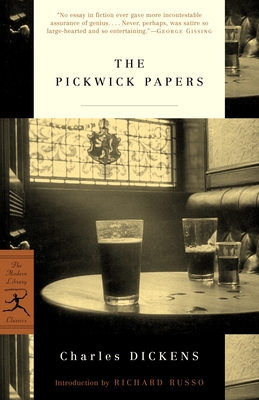 The Pickwick Papers (Paperback)
Modern Library, 9780812967272, 779pp.
Publication Date: August 12, 2003
Description
Charles Dickens's satirical masterpiece, The Pickwick Papers, catapulted the young writer into literary fame when it was first serialized in 1836-37. It recounts the rollicking adventures of the members of the Pickwick Club as they travel about England getting into all sorts of mischief. Laugh-out-loud funny and endlessly entertaining, the book also reveals Dickens's burgeoning interest in the parliamentary system, lawyers, the Poor Laws, and the ills of debtors' prisons. As G. K. Chesterton noted, -Before Dickens] wrote a single real story, he had a kind of vision . . . a map full of fantastic towns, thundering coaches, clamorous market-places, uproarious inns, strange and swaggering figures. That vision was Pickwick.-
About the Author
Richard Russo is the author of Empire Falls, winner of the 2002 Pulitzer Prize for Fiction, as well as Mohawk, The Risk Pool, Nobody's Fool, and Straight Man. He lives in coastal Maine with his wife and their two daughters.
Praise For The Pickwick Papers…
"No essay in fiction ever gave more incontestable assurance of genius. . . . Never, perhaps, was satire so large-hearted and so entertaining."—George Gissing
Advertisement