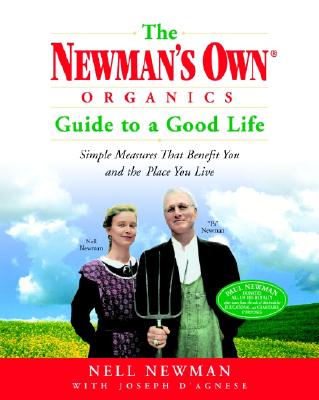 The Newman's Own Organics Guide to a Good Life: Simple Measures That Benefit You and the Place You Live (Paperback)
Simple Measures That Benefit You and the Place You Live
Villard Books, 9780812967333, 256pp.
Publication Date: March 11, 2003
* Individual store prices may vary.
or
Not Currently Available for Direct Purchase
Description
It's fairly obvious that one can't be a 'perfect' environmentalist. But that's okay. Perfection isn't the goal. A good life is. And a good life has as much to do with your intent as with the end result." —from the Introduction

The Newman's Own Organics Guide to a Good Life is the essential book for those of us who can't live in an organic hemp tepee but do care about our quality of life, global warming, clean water, and disappearing resources.

Nell Newman shows you how to do what is within easy reach. Along with realistic, practical advice, she shows how and why living a more environmentally conscious life benefits you and your immediate surroundings. In addition to recycling and reusing, the book covers consumer-related steps such as

• how buying and eating organic food supports small farms (and tastes better, too)
• how you can buy clean power through your regular power company
• which long-distance telephone companies offer competitive pricing and service while returning a portion of their profits to environmental and educational organizations
• where to buy everything—from pots and pans to pet food—so that you can "vote with your dollar" and feel good about your purchases

Packed with profiles of fascinating—and sometimes zany—people and a heavy dose of sanity, this book is organized according to the way you really live, making it easy to identify what areas of change are viable for you. A resource directory of publications, retailers, groups, and associations is included in the back of the book.
About the Author
Nell Newman is the daughter of actors Paul Newman and Joanne Woodward. She earned a B.S. in human ecology from the College of the Atlantic. After graduating, she worked at the Environmental Defense Fund, the Ventana Wilderness Sanctuary, and the Santa Cruz Predatory Bird Research Group. She lives in Santa Cruz, California.

Joseph D'Agnese is a contributing editor to Discover magazine. His work was selected for inclusion in the 2002 edition of The Best American Science Writing. D'Agnese has also written for The New York Times, This Old House, Saveur, and Garden Design, among other publications. He lives in Hoboken, New Jersey.
Praise For The Newman's Own Organics Guide to a Good Life: Simple Measures That Benefit You and the Place You Live…
"Buy this book! My daughter wrote it and that's good enough for me!"
-Pop

"Nell Newman makes the message simple, clear and compelling: Knowledge and action add up to revolution. She gracefully conveys both the science and the soul of the issues, and offers practical solutions. Nell is living proof that social activism and environmental responsibility are integral to–not obstacles to–health and success; let her lead you on her candid, thoughtful, gently subversive path to better choices every day, and before you know it, you too are a passionate agent of change for a better world."
-Elaine Marie Lipson, author of The Organic Foods Sourcebook
Advertisement