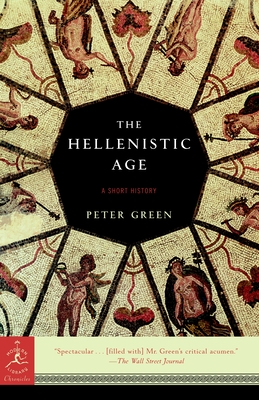 The Hellenistic Age: A Short History (Paperback)
A Short History
Modern Library, 9780812967401, 199pp.
Publication Date: May 13, 2008
Description
The Hellenistic Age chronicles the years 336 to 30 BCE, a period that witnessed the overlap of two of antiquity's great civilizations, the Greek and the Roman. Peter Green's remarkably far-ranging study covers the prevalent themes and events of those centuries: the Hellenization, by Alexander's conquests, of an immense swath of the known world; the lengthy and chaotic partition of this empire by rival Macedonian bands; the decline of the city-state as the predominant political institution; and, finally, Rome's moment of transition from republican to imperial rule. It is a story of war and power-politics, and of the developing fortunes of art, science, and statecraft, spun by an accomplished classicist with an uncanny knack for infusing life into the distant past, and applying fresh insights that make ancient history seem alarmingly relevant to our own times.
-Spectacular . . . filled with] Mr. Green's critical acumen.-
-The Wall Street Journal
-Green draws upon a lifetime of scholarship to brilliantly sum up the three-hundred-year Hellenistic age. . . . Happily, this book's brevity-admirable in itself, and in its concision, elegance, and authority-isn't achieved at the expense of subtlety and complexity.-
-The Atlantic Monthly

-An interesting and well-written overview . . . Students of world history are in Green's debt.-
-The Philadelphia Inquirer
-Marvelous . . . splendid . . . a brilliant introduction to this crucial transitional period.-
-Publishers Weekly (starred review)
About the Author
Peter Green is the James R. Dougherty, Jr., Centennial Professor of Classics Emeritus at the University of Texas at Austin. He is the author of several books, including Alexander of Macedon and The Greco-Persian Wars. Currently he serves as adjunct professor of classics at the University of Iowa and editor of Syllecta Classica.
Advertisement