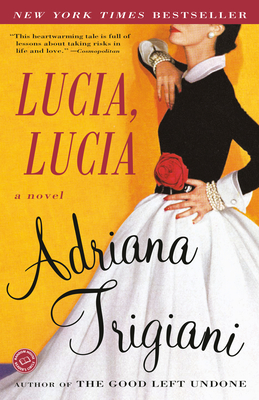 Lucia, Lucia
A Novel
Paperback

* Individual store prices may vary.
Other Editions of This Title:
Digital Audiobook (7/7/2003)
Digital Audiobook (4/9/2003)
Description
NEW YORK TIMES BESTSELLER • "This heartwarming tale is full of lessons about taking risks in life and love."—Cosmopolitan
 
"Funny, visual, and moving . . . A vibrant, loving, wistful portrait of a lost time and place."—Richmond Times-Dispatch
 
It is 1950 in glittering, vibrant New York City, and Lucia Sartori is the beautiful twenty-five-year-old daughter of a prosperous Italian grocer in Greenwich Village. The postwar boom is rife with opportunities for talented girls with ambition, and Lucia becomes an apprentice to an up-and-coming designer at chic B. Altman department store on Fifth Avenue. Engaged to her childhood sweetheart, the steadfast Dante DeMartino, Lucia is torn when she meets a handsome stranger who promises a life of uptown luxury that career girls like her only read about in the society pages. 
 
Forced to choose between duty to her family and her own dreams, Lucia finds herself in the midst of a sizzling scandal in which secrets are revealed, her beloved career is jeopardized, and the Sartoris' honor is tested.
Praise For Lucia, Lucia: A Novel…
"Trigiani's writing is as dazzling as Lucia's dresses."—USA Today (Book Club Pick)

"Compelling . . . a breezy read."—Entertainment Weekly
 
"[Trigiani] writes with commanding authenticity about Italian American life, the landscape of Italy, and New York City. . . . Lucia, her Italian family, her ambitious girlfriends, her colorful boss, and her mysterious lover are colorful, poignant characters, representative of another time, yet as real as today. . . . Trigiani has proved she is a multifaceted writer whose name and stories will be celebrated for years to come."—Richmond Times-Dispatch
 
"Adriana Trigiani's enchanting new novel will find a warm welcome from every reader who has encountered a fork in the road to love and taken the more perilous path. . . . [A] testament to the power of familial love and friendship . . . Perhaps [this] is Trigiani's greatest gift to her reader: the recognition that devotion, loyalty, and forgiveness will ultimately win the day."—BookPage
 
"Trigiani creates a compelling story, artfully uniting a snapshot of the past with the present. This bittersweet novel should have broad appeal."—Library Journal

"Filled to bursting with gorgeous clothes, sumptuous meals, beautiful weather, and the rhapsody of New York City."—Kirkus Reviews
 
"You'll find yourself lost in an Audrey Hepburn movie that was never made."—CNN Business
 
"Delightful . . . Trigiani has artfully woven a wonderful, engaging story that blends the past with the present. Her characters are richly appealing, from [Lucia's] four overprotective brothers to her quickwitted best friend."—Review Appeal

"[A] heartfelt depiction of homespun characters whose emotions are always very close to the surface . . . Trigiani offers an inviting picture of Italian family life as well as a finely detailed appreciation of Old World craftsmanship."—Booklist
 
"[A] bustling, sparkling 1950s New York City . . . Trigiani does a wonderful job evoking Lucia's beloved, homey Greenwich Village and the couture-clad Upper East Side. Vivid, too, are the descriptions of Italian cooking and feasting, and the Sartoris' storybook hometown in the old country."—Boston Herald
 
"This is your perfect summer read. Trust us. Put a good reading light on in your backyard . . . and read your little heart out, deep into the night."—Voice Ledger
 
"Poignant and feeling . . . Readers will laugh with and weep for Lucia and her lost dreams."—Publishers Weekly


Ballantine Books, 9780812967791, 304pp.
Publication Date: June 29, 2004
About the Author
Adriana Trigiani grew up in Virginia and now lives in New York City with her husband and daughter. She is an award-winning playwright, television writer, and documentary filmmaker. Trigiani is the author of the bestselling novels Big Stone Gap, Big Cherry Holler, and Milk Glass Moon, and has written the screenplay for the movie Big Stone Gap, which she will also direct. She can be reached at www.adrianatrigiani.com.