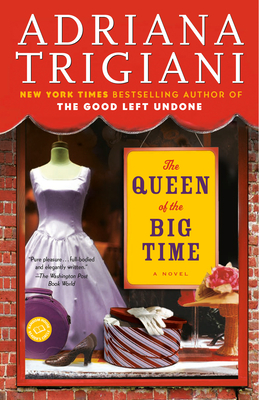 The Queen of the Big Time
A Novel
Paperback

* Individual store prices may vary.
Other Editions of This Title:
Digital Audiobook (3/30/2004)
Digital Audiobook (7/5/2004)
Compact Disc, Abridged, Abridged (7/6/2004)
Description
Known and loved around the world for her sweeping Big Stone Gap trilogy and the instant New York Times bestseller Lucia, Lucia, Adriana Trigiani returns to the charm and drama of small-town life with Queens of the Big Time. This heartfelt story of the limits and power of love chronicles the remarkable lives of the Castellucas, an Italian-American family, over the course of three generations.

In the late 1800s, the residents of a small village in the Bari region of Italy, on the shores of the Adriatic Sea, made a mass migration to the promised land of America. They settled in Roseto, Pennsylvania, and re-created their former lives in their new home–down to the very last detail of who lived next door to whom. The village's annual celebration of Our Lady of Mount Carmel–or "the Big Time," as the occasion is called by the young women who compete to be the pageant's Queen–is the centerpiece of Roseto's colorful old-world tradition.

The industrious Castellucas farm the land outside Roseto. Nella, the middle daughter of five, aspires to a genteel life "in town," far from the rigors of farm life, which have taken a toll on her mother and forced her father to take extra work in the slate quarries to make ends meet. But Nella's dreams of making her own fortune shift when she meets Renato Lanzara, the son of a prominent Roseto family. Renato is a worldly, handsome, devil-may-care poet who has a way with words that makes him irresistible. Their friendship ignites into a fiery romance that Nella is certain will lead to marriage. But Nella is not alone in her pursuit: every girl in town seems to want Renato. When he disappears without explanation, Nella is left with a shattered heart. Four years later, Renato's sudden return to Roseto the night before Nella's wedding to the steadfast Franco Zollerano leaves her and the Castelluca family shaken. For although Renato has chosen a path very different from Nella's, they are fated to live and work in Roseto, where the past hangs over them like a brewing storm.

An epic of small-town life, etched in glorious detail in the trademark Trigiani style, The Queen of the Big Time is the story of a determined, passionate woman who can never forget her first love.
Praise For The Queen of the Big Time: A Novel…
Praise for The Queen of the Big Time:


"Moving and poignant ...Trigiani has again defied categorization. She is more than a one-hit wonder, more than a Southern writer, more than a women's novelist. She is an amazing young talent."
–Richmond Times-Dispatch

"A sweet story of growing up, marrying, and dying within the framework of family, love, and community...[The Queen of the Big Time] will make you smile and reminisce about gentler, more civil times in small-town and rural America."
–The Boston Globe

"Trigiani takes from her own heritage to craft a generous plot-driven novel that's a breezy page-turner ... 'Queen' offers a personal saga of American history and a romance woven together with warmth and good humor."
–Oregonian

"Full-bodied and elegantly written ... Trigiani builds [The Queen of the Big Time] around an old-fashioned love story ...Pure pleasure."
–Washington Post Book World

"Deaths lead to births, dreams deferred yield wondrous new visions [in The Queen of the Big Time] ... intensely detailed characters."
–Entertainment Weekly

"Heartfelt ... Readers who have fallen for Trigiani's hallmark personages ... in previous books will delight in meeting the new ones É [Paints] a thorough picture of Italian-American family life and the deep pain of lost love."–Publishers Weekly


Praise for Adriana Trigiani and Lucia, Lucia
"Trigiani's writing is as dazzling as Lucia's dresses."
–USA Today

"Fast-moving, funny, visual, and moving. . . A vibrant, loving, wistful portrait of a lost time and place. Every page is engrossing and begs us to read the next."
–Richmond Times-Dispatch

"Seamlessly superb storytelling . . . Trigiana never loses hold of the hearts of her characters–or of the wisdom that tragedy and redemption are also part of life."
–St. Louis Post-Dispatch

"This heartwarming tale is full of lessons about taking risks in life and love."
–Cosmopolitan

"Compelling...a breezy read."
–Entertainment Weekly
Ballantine Books, 9780812967807, 304pp.
Publication Date: May 31, 2005
About the Author
ADRIANA TRIGIANI is an award-winning playwright, television writer, and documentary filmmaker. The author of the bestselling Big Stone Gap trilogy and the novel Lucia, Lucia, Trigiani has written the screenplay for the movie Big Stone Gap, which she will also direct. She lives in New York City, with her husband and daughter.