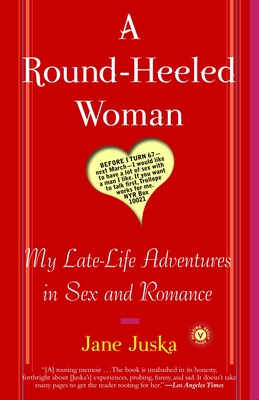 A Round-Heeled Woman (Paperback)
My Late-Life Adventures in Sex and Romance
Villard, 9780812967876, 288pp.
Publication Date: May 11, 2004
* Individual store prices may vary.
Description
"Round-heeled" is an old-fashioned label for a woman who is promiscuous—someone who nowadays might be called "easy." It's a surprising way for a cultured English teacher with a passion for the novels of Anthony Trollope to describe herself, but then that's just the first of many surprises to be found in this poignant, funny, utterly unique memoir. Jane Juska is a smart, energetic divorcée who decided she'd been celibate too long, and placed the following personal ad in her favorite newspaper, The New York Review of Books:

Before I turn 67—next March—I would like to have a lot of sex with a man I like. If you want to talk first, Trollope works for me.

This closing reference was a nod to her favorite author, of course. The response was overwhelming, and Juska took a sabbatical from teaching to meet some of the men who had replied. And since her ad made it clear that she wasn't expecting just hand-holding, her dates zipped from first base to home plate in record time.

Juska is a totally engaging, perceptive writer, funny and frank about her exploits. It's high time someone revealed the fact that older single people are as eager for sex and intimacy as their younger counterparts. Jane Juska's brave, honest memoir will probably raise eyebrows and blood pressure, but it will undoubtedly appeal to the very large audience of grown-up readers who will be fascinated and inspired by her daring adventure.
About the Author
Jane Juska was born in 1933 and educated at the University of Michigan and the University of California at Berkeley. She was a teacher of English in high school for more than thirty years, in college for five, and in prison for five. Her memoir, A Round-Heeled Woman, about her late-life adventures in love and sex, was both a San Francisco Chronicle bestseller and a national sensation; it inspired a one-woman show starring Sharon Gless that was performed in the United States and London. Juska's essays have appeared in Vogue, Self, Good Housekeeping, Redbook, the Huffington Post, and online at Byliner and Shebooks. She is also the author of a second memoir, Unaccompanied Women, and lives in Chester, California. Mrs. Bennet Has Her Say is her debut novel.
Praise For A Round-Heeled Woman: My Late-Life Adventures in Sex and Romance…
Advance praise for A Round-Heeled Woman

"Feisty, charming, moving and wise, this page-turner of a memoir proves that life for a woman—sexual and otherwise—hardly stops at thirty-nine . . . forty-nine or fifty-nine." —Cathi Hanauer, editor of The Bitch in the House and author of My Sister's Bones

"Juska has a good sense of humor, and of course, her favorite writer is Anthony Trollope. She likes the way he treats women in his novels. Let's wish her a happy birthday and buy her book. I really liked it." —Liz Smith, "Page Six," New York Post

"Juska writes well about the sex . . . but even better about the seductions, which take on the luster of years served. Expressive and touching: readers will be rooting for Juska to get all that she wants." —Kirkus Reviews

"There's something universal in [Juska's] love affair with the written word." —Publishers Weekly


From the Hardcover edition.