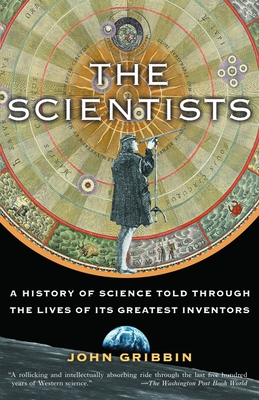 The Scientists: A History of Science Told Through the Lives of Its Greatest Inventors (Paperback)
A History of Science Told Through the Lives of Its Greatest Inventors
Random House Trade, 9780812967883, 646pp.
Publication Date: August 1, 2004
* Individual store prices may vary.
or
Not Currently Available for Direct Purchase
Description
A wonderfully readable account of scientific development over the past five hundred years, focusing on the lives and achievements of individual scientists, by the bestselling author of
In Search of Schrodinger's Cat
In this ambitious new book, John Gribbin tells the stories of the people who have made science, and of the times in which they lived and worked. He begins with Copernicus, during the Renaissance, when science replaced mysticism as a means of explaining the workings of the world, and he continues through the centuries, creating an unbroken genealogy of not only the greatest but also the more obscure names of Western science, a dot-to-dot line linking amateur to genius, and accidental discovery to brilliant deduction.
By focusing on the scientists themselves, Gribbin has written an anecdotal narrative enlivened with stories of personal drama, success and failure. A bestselling science writer with an international reputation, Gribbin is among the few authors who could even attempt a work of this magnitude. Praised as -a sequence of witty, information-packed tales- and -a terrifi c read- by
The Times
upon its recent British publication,
The Scientists
breathes new life into such venerable icons as Galileo, Isaac Newton, Albert Einstein and Linus Pauling, as well as lesser lights whose stories have been undeservedly neglected. Filled with pioneers, visionaries, eccentrics and madmen, this is the history of science as it has never been told before.
From the Hardcover edition.
About the Author
John Gribbin trained as an astrophysicist at Cambridge University and is currently Visiting Fellow in Astronomy at the University of Sussex. His many books include In Search of Schrodinger's Cat, Schrodinger's Kittens and the Search for Reality and Q Is for Quantum. He lives in Sussex, England. From the Hardcover edition.
Praise For The Scientists: A History of Science Told Through the Lives of Its Greatest Inventors…
Praise for The Scientists

"Essential reading...tells the story of science as a sequence of witty, information-packed tales...complete with humanizing asides, glimpses of the scientist's personal life and amusing anecdotes."
—London Sunday Times, Books of the Year

"Excels at making complex science intelligible to the general reader...If you're looking for a book that captures the personal drama and achievement of science, then look no further."—The Guardian

"Gripping and entertaining...wonderfully and pleasurably accessible... Much of the history of science reads like a detective story, which in the hands of a skilled narrator like Gribbin makes the description of each new advance appear as an illumination."—The Independent on Sunday

"Tremendous...moves me to bestow a reviewer's cliché I long ago vowed never to use: a tour de force."
—The Spectator

"A splendid book...exposes the factual roots of some of science's well-known tales (for example, Galileo never dropped weights of different sizes from Pisa's leaning tower)."—The Economist

"A magnificent history...enormously entertaining."—The Daily Telegraph
Advertisement