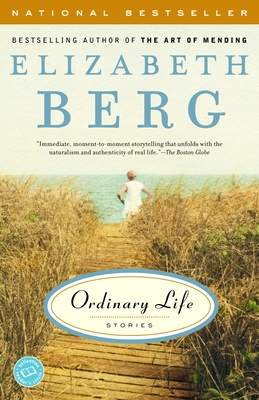 Ordinary Life: Stories (Paperback)
Stories
Ballantine Books, 9780812968132, 224pp.
Publication Date: May 13, 2003
Description
In this superb collection of short stories, Elizabeth Berg takes us into remarkable moments in the lives of women, when memories and events come together to create a sense of coherence, understanding, and change. In Ordinary Life, Mavis McPherson locks herself in the bathroom for a week, shutting out her husband and the realities of their life together and, no, she isn t contemplating a divorce. She just needs some time to think, to take stock of her life, and to arrive, finally, at a surprising conclusion.
In White Dwarf and Martin's Letter to Nan, the secrets of a marriage are revealed with the sensitivity and brilliant insights about the human condition (Detroit Free Press) that have become a trademark of Berg's writing. The Charlotte Observer has said, Berg captures the way women think as well as any writer. Those qualities of wisdom and insight are everywhere present in Ordinary Life.
About the Author
Elizabeth Berg s novels Open House, The Pull of the Moon, Range of Motion, What We Keep, Never Change, and Until the Real Thing Comes Along were bestsellers. Durable Goods and Joy School were selected as ALA Best Books of the Year. Talk Before Sleep was an ABBY finalist and a New York Times bestseller. In 1997, Berg won the NEBA Award in fiction, and in 2000 her novel Open House was named an Oprah s Book Club selection. She lives in Chicago."
Praise For Ordinary Life: Stories…
"Immediate, moment-to-moment storytelling that unfolds with the naturalism and authenticity of real life." —The Boston Globe

"An extraordinary short story collection that deserves our closest attention." —Detroit Free Press

"Elizabeth Berg's gift as a storyteller lies most powerfully in her ability to find the extraordinary in the ordinary, the remarkable in the everyday." —The Boston Globe

"Berg's...deftly drawn pictures of ordinary life can help remind us of its oft-unheeded charms." —Los Angeles Times
Advertisement