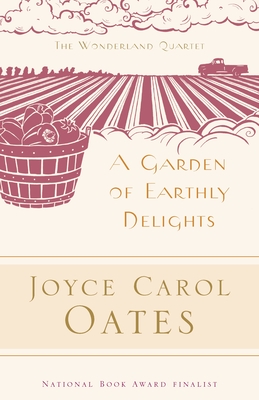 A Garden of Earthly Delights (The Wonderland Quartet #1) (Paperback)
Modern Library, 9780812968347, 448pp.
Publication Date: April 22, 2003
* Individual store prices may vary.
Description
A masterly work from a writer with "the uncanny ability to give us a cinemascopic vision of her America" (National Review), A Garden of Earthly Delights is the opening stanza in what would become one of the most powerful and engrossing story arcs in literature.

Joyce Carol Oates's Wonderland Quartet comprises four remarkable novels that explore social class in America and the inner lives of young Americans. In A Garden of Earthly Delights, Oates presents one of her most memorable heroines, Clara Walpole, the beautiful daughter of Kentucky-born migrant farmworkers. Desperate to rise above her haphazard existence of violence and poverty, determined not to repeat her mother's life, Clara struggles for independence by way of her relationships with four very different men: her father, a family man turned itinerant laborer, smoldering with resentment; the mysterious Lowry, who rescues Clara as a teenager and offers her the possibility of love; Revere, a wealthy landowner who provides Clara with stability; and Swan, Clara's son, who bears the psychological and spiritual burden of his mother's ambition.

A Garden of Earthly Delights is the first novel in the Wonderland Quartet. The books that complete this acclaimed series, Expensive People, them, and Wonderland, are also available from the Modern Library.
About the Author
Joyce Carol Oates is the Roger S. Berlind Professor in the Humanities at Princeton University. She is the author of numerous works of fiction and poetry, as well as books of essays, criticism, and plays. She lives in Princeton, New Jersey.
Praise For A Garden of Earthly Delights (The Wonderland Quartet #1)…
Praise for The Wonderland Quartet

"Protean and prodigious are surely the words that describe Ms. Oates. From the very beginning, as these impressive and diverse novels make clear, her talents and interests and strengths have never found comfort in fashionable restraint. She's sought, instead, to do it all—to face and brilliantly, inventively transact and give shape to as much of experience as possible, as if by no other means is a useful and persuasive gesture of moral imagination even conceivable. For us readers these are valuable books."—Richard Ford

"These four novels reveal Oates' powers of observation and invention, her meticulous social documentation joined to her genius for forging unforgettable myths. She is one of the handful of great American novelists of the last hundred years."—Edmund White

"This rich, kaleidoscopic suite of novels displays the young Joyce Carol Oates exercising her formidable artistic powers to portray a turbulent twentieth-century America. They offer the reader a singular opportunity to experience some of Oates's best writing and to witness her development, novel by novel, into one of our finest contemporary writers."—Greg Johnson, author of Invisible Writer: A Biography of Joyce Carol Oates