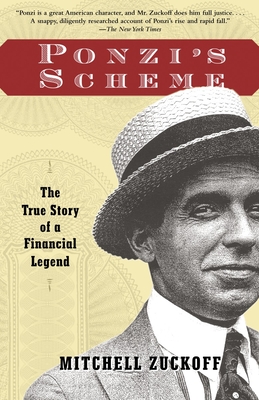 Ponzi's Scheme (Paperback)
The True Story of a Financial Legend
Random House Trade Paperbacks, 9780812968361, 416pp.
Publication Date: January 10, 2006
Other Editions of This Title:
Digital Audiobook (3/7/2005)
Digital Audiobook (3/7/2005)
* Individual store prices may vary.
Description
It was a time when anything seemed possible–instant wealth, glittering fame, fabulous luxury–and for a run of magical weeks in the spring and summer of 1920, Charles Ponzi made it all come true. Promising to double investors' money in three months, the dapper, charming Ponzi raised the "rob Peter to pay Paul" scam to an art form. At the peak of his success, Ponzi was raking in more than $2 million a week at his office in downtown Boston. Then his house of cards came crashing down–thanks in large part to the relentless investigative reporting of Richard Grozier's Boston Post. A classic American tale of immigrant life and the dream of success, Ponzi's Scheme is the amazing story of the magnetic scoundrel who launched the most successful scheme of financial alchemy in modern history.
About the Author
MITCHELL ZUCKOFF is a professor of journalism at Boston University. He is co-author of Judgment Ridge, which was a finalist for an Edgar Award, and author of Choosing Naia, a Boston Globe bestseller and winner of the Christopher Award. As a reporter with The Boston Globe, he was a Pulitzer Prize finalist and winner of numerous national honors, including the 2000 Distinguished Writing Award from the American Society of Newspaper Editors. He lives outside Boston with his wife and two daughters.
Praise For Ponzi's Scheme: The True Story of a Financial Legend…
"This is the first full nonfiction account of the Ponzi scheme, and Mitchell Zuckoff . . . has made it as agreeable as the 'smiling, cane-twirling banty rooster of a man' behind it. . . . A history that is both solid and entertaining."
–Chicago Sun-Times

"In his charming book . . . Mitchell Zuckoff vividly recounts the story of Charles Ponzi [with] impressive research and elegant writing."
–Boston Sunday Globe

"Thanks to Mitchell Zuckoff . . . who has given Ponzi exactly what he deserves: a thorough account of his life and a candid but sympathetic portrait."
–The Washington Post Book World

"Zuckoff's biography of this charming rogue . . . provokes our wonder precisely because his subject is so brazen–and yet so naively captive to his own illusions."
–The Wall Street Journal