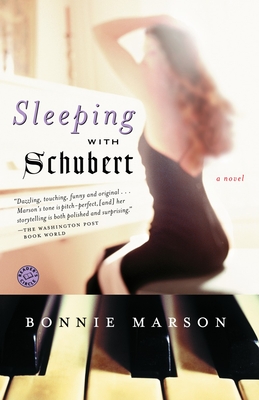 Sleeping with Schubert
A Novel
Paperback

* Individual store prices may vary.
Other Editions of This Title:
Digital Audiobook (6/21/2004)
Digital Audiobook (3/4/2004)
Description
It seems that the legendary composer Franz Schubert is alive—well, sort of—in the twenty-first century: His soul has taken up residence in the body of Brooklyn lawyer Liza Durbin. Even more astonishing, so has his prodigious gift. A mediocre pianist at best as a child, Liza can suddenly pound out concertos and compose masterly music out of the blue. But how can a brilliant male Austrian composer from the nineteenth century coexist in the everyday life of a modern American woman? And how can Liza explain what's happened to her without everyone thinking she's gone off the deep end?

Fortunately, the evidence is tangible, and Liza is soon brought into the esteemed halls of Juilliard under the tutelage of the revered—and feared—Greta Pretsky, a humorless woman whose only interest in Liza is her channeling of Schubert. Greta's greedy for her next big star, and the entire New York City press is whispering of Liza's brilliance as the public awaits her debut at Carnegie Hall. Even Liza's boyfriend, Patrick, seems more in love with her than ever.

Yet as Liza yields to Franz's great passion, her own life and identity threaten to elude her. Why was she chosen as the vessel for this musical genius—and when, if ever, will he leave? Their entwined souls follow a path of ecstasy, peril, and surprise as they search for the final, liberating truth.

A strikingly original novel, Sleeping with Schubert plays on years of speculation regarding Franz Schubert's "Unfinished Symphony." Bonnie Marson's extraordinary imagination supposes that Schubert cannot truly die until the mystery is solved—even if it means being resurrected in the body of a deceptively ordinary woman. Filled with drama and humor, this irresistible novel explores love, genius, and identity in ways that will engage and amaze readers.
Praise For Sleeping with Schubert: A Novel…
"Combining just the right amounts of love, lunacy, and lyricism, Bonnie Marson has given us an enchanting tale about genius and relationships sparked by the improbable convergence of a dead composer and a Brooklyn lawyer. This book is as original as they come. You will be captivated."
—Tawni O'Dell, author of Backroads

"A charmed and charming novel—an imaginative joy ride with a gifted and generous spirit."
—Katherine Dunn, author of Geek Love

"From the opening lines, Sleeping with Schubert is a hilarious, whimsical romp through the looking glass of a great musical mystery. The writing snaps, crackles, and pops with humor as Bonnie Marson makes Schubert a sexy, happening kind of guy who gives new meaning to our dreaming the impossible."
—Jonis Agee, author of The Weight of Dreams


Ballantine Books, 9780812968392, 400pp.
Publication Date: November 29, 2005
About the Author
BONNIE MARSON is an artist who has worked in many media including painting, drawing, photography, ceramics, and mosaics. She has sold her work in galleries and to collectors around the country. Sleeping with Schubert Film rights have been acquired by Paramount Pictures. The author lives in Tucson, Arizona, with her husband, Steve Sadler.
or
Not Currently Available for Direct Purchase