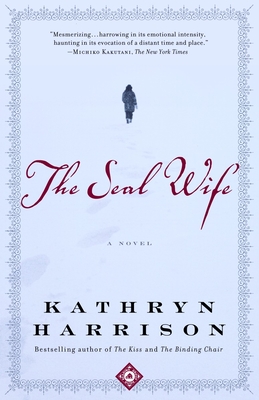 The Seal Wife (Paperback)
Random House Trade, 9780812968453, 248pp.
Publication Date: May 13, 2003
Description
For the first time in paperback, here is the bestselling novel by "a writer of extraordinary gifts" (Tobias Wolff). Stunning, hypnotic, spare, The Seal Wife tells the story of a young scientist and his consuming love for a woman known only as the Aleut, a woman who refuses to speak. A novel of passions both dangerous and generative, The Seal Wife explores the nature of desire and its ability to propel an individual beyond himself and outside convention. Kathryn Harrison brilliantly re-creates the Alaskan frontier during the period of the First World War as she explores with deep understanding the interior landscape of the human psyche--a landscape eerily continuous with the splendor and terror of the frozen frontier and the storms that blow over the earth and its face.
About the Author
Kathryn Harrison is the author of the novels The Binding Chair, Poison, Exposure, and Thicker Than Water. She has also written a memoir, The Kiss. Her personal essays have appeared in The New Yorker, Harper's Magazine, and other publications. She lives in New York with her husband, the novelist Colin Harrison, and their children. She can be reached at thebindingchair@yahoo.com. From the Hardcover edition.
Praise For The Seal Wife…
"Mesmerizing...harrowing in its emotional intensity, haunting in its evocation of a distant time and place." —Michiko Kakutani, The New York Times

"Superb, perfect, one might even say—soaring." —The Seattle Times

"Lyrical passages...reads like profound poetry...the most enterprising and successful portrait of a man in heat by a female writer since Joyce Carol Oates' tumultuously orgasmic What I Lived For." —Alan Cheuse, Chicago Tribune

"Intricately wrought...Harrison imbues her solitary silence with a stately air of self-possession." —Maria Russo, The New York Times Book Review

"This...mesmerizing tale is dizzying in intensity; its startling story twists are borne along by prose as austere and powerful as Alaska's icescape. The novel's undertow of anguish will resonate with anyone who has tried to make sense of desire....Chilled to perfection." —People
Advertisement