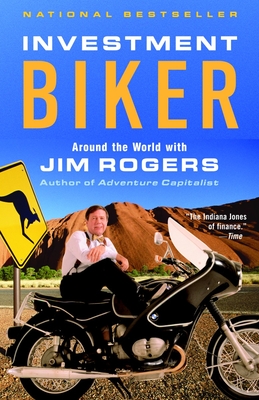 Investment Biker: Around the World with Jim Rogers (Paperback)
Around the World with Jim Rogers
Random House Trade, 9780812968712, 440pp.
Publication Date: April 8, 2003
Description
Legendary investor Jim Rogers gives us his view of the world on a twenty-two-month, fifty-two-country motorcycle odyssey in his bestselling business/adventure book, Investment Biker, which has already sold more than 200,000 copies. Before you invest another dollar anywhere in the world (including the United States), read this book by the man Time magazine calls "the Indiana Jones of finance." Jim Rogers became a Wall Street legend when he co-founded the Quantum Fund. Investment Biker is the fascinating story of Rogers's global motorcycle journey/investing trip, with hardheaded advice on the current state and future direction of international economies that will guide and inspire investors interested in foreign markets.
About the Author
Jim Rogers cofounded the Quantum Fund before he turned 30 and retired at age 37. Since then, he has served as a sometime professor of finance at Columbia University's business school, and as a media commentator worldwide. He is the author of A Bull in China, Hot Commodities, Adventure Capitalist, and Investment Biker. He recently moved to Asia with his wife and daughters.
Praise For Investment Biker: Around the World with Jim Rogers…
"The Indiana Jones of finance." —Time

"Rogers's advice is sage: Stick with nations where hard-nosed bureaucrats push fiscal reforms, maintain sound currencies, advocate free trade, and stay out of areas best left to the private sector. And Rogers also dishes up ample adventure."—BusinessWeek
Advertisement