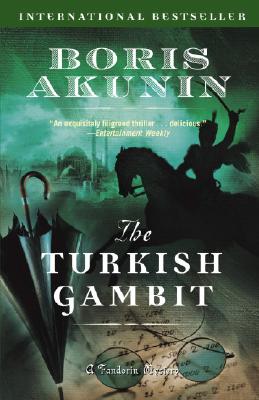 The Turkish Gambit (Paperback)
Random House Trade, 9780812968781, 229pp.
Publication Date: April 18, 2006
Description
" An] elegantly spun yarn . . . Akunin's wonderful novels are always intricately webbed and plotted."
-The Providence Journal It is 1877, and war has broken out between Russia and the Ottoman Empire. In the treacherous atmosphere of a Russian field army, former diplomat and detective extraordinaire Erast Fandorin stumbles upon his most confounding case. Its difficulties are only compounded by the presence of Varya Suvorova, a deadly serious (and seriously beautiful) woman with revolutionary ideals who has disguised herself as a boy in order to reunite with her respected comrade and fiance. Even after Fandorin saves her life, Varya can hardly bear to thank such a "lackey of the throne" for his efforts. When Varya's fiance is accused of espionage and faces execution, however, she must turn to Fandorin to find the real culprit . . . a mission that forces her to reckon with his courage, deductive mind, and piercing gaze.
About the Author
BORIS AKUNIN is the pen name of Grigory Chkhartishvili, who was born in the republic of Georgia in 1956. A philologist, critic, essayist, and translator of Japanese, he published his first detective stories in 1998 and quickly became one of the most widely read authors in Russia. He has written eleven Erast Fandorin novels to date, which have sold more than eight million copies in Russia and been translated into nearly two dozen languages. He lives in Moscow. ANDREW BROMFIELD was born in Hull in Yorkshire, England, and is the acclaimed translator of the stories and novels of Victor Pelevin. He also translated into English Boris Akunin's first two Erast Fandorin mysteries, The Winter Queen and Murder on the Leviathan. From the Hardcover edition.
Praise For The Turkish Gambit…
"Akunin's mystery [series] is wildly popular in his homeland, and deservedly so. His plots are intricate. . . . Impressive."
–The New Yorker

"An exquisitely filigreed thriller . . . delicious."
–Entertainment Weekly

"This sophisticated mystery is a marvel."
–The Boston Globe

"Fandorin delves with his customary mix of taciturn superiority and apparent bewilderment. He is a delightful character like no other in crime fiction."
–The Times (London)
Advertisement