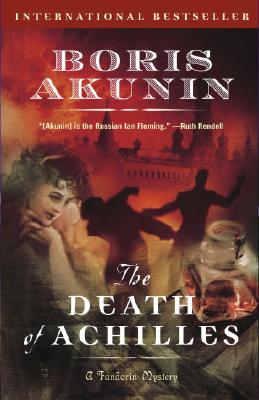 The Death of Achilles (Paperback)
Random House Trade, 9780812968804, 320pp.
Publication Date: April 18, 2006
Description
In 1882, after six years of foreign travel and adventure, renowned diplomat and detective Erast Fandorin returns to Moscow in the heart of Mother Russia. His Moscow homecoming is anything but peaceful. In the hotel where he and his loyal if impertinent manservant Masa are staying, Fandorin's old war-hero friend General Michel Sobolev ("Achilles" to the crowd) has been found dead, felled in his armchair by an apparent heart attack. But Fandorin suspects an unnatural cause. His suspicions lead him to the boudoir of the beautiful singer-"not exactly a courtesan"-known as Wanda. Apparently, in Wanda's bed, the general secretly breathed his last. . . .
About the Author
BORIS AKUNIN is the pen name of Grigory Chkhartishvili, who was born in the republic of Georgia in 1956. A philologist, critic, essayist, and translator of Japanese, he published his first detective stories in 1998 and quickly became one of the most widely read authors in Russia. He has written ten Erast Fandorin novels to date, which have sold more than eight million copies in Russia and been translated into nearly two dozen languages. He lives in Moscow.
Praise For The Death of Achilles…
"[Akunin's] novels feature a Slavic Sherlock Holmes who speaks Japanese and English, is skilled at martial arts and has ladykiller good looks. . . . Millions of readers have been seduced."
–The Wall Street Journal

"[Akunin] writes gloriously pre-Soviet prose, sophisticated and suffused in Slavic melancholy and thoroughly worthy of nineteenth-century forebears like Gogol and Chekhov."
–Time

"Critics on both sides of the Atlantic have praised [Akunin's] clever plots, vivid characters and wit as sharp as the sword hidden in Fandorin's walking stick."
–Baltimore Sun

"Akunin's wonderful novels are always intricately webbed and plotted."
–The Providence Journal
Advertisement