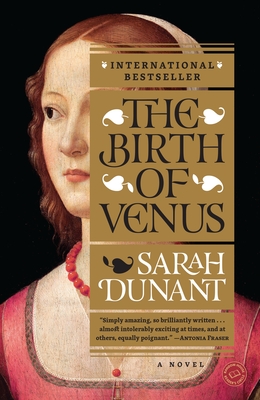 The Birth of Venus
A Novel
Paperback

* Individual store prices may vary.
Other Editions of This Title:
Digital Audiobook (11/11/2003)
Digital Audiobook (2/16/2004)
Hardcover (2/17/2004)
Description
Alessandra Cecchi is not quite fifteen when her father, a prosperous cloth merchant, brings a young painter back from northern Europe to decorate the chapel walls in the family's Florentine palazzo. A child of the Renaissance, with a precocious mind and a talent for drawing, Alessandra is intoxicated by the painter's abilities.

But their burgeoning relationship is interrupted when Alessandra's parents arrange her marriage to a wealthy, much older man. Meanwhile, Florence is changing, increasingly subject to the growing suppression imposed by the fundamentalist monk Savonarola, who is seizing religious and political control. Alessandra and her native city are caught between the Medici state, with its love of luxury, learning, and dazzling art, and the hellfire preaching and increasing violence of Savonarola's reactionary followers. Played out against this turbulent backdrop, Alessandra's married life is a misery, except for the surprising freedom it allows her to pursue her powerful attraction to the young painter and his art.

The Birth of Venus is a tour de force, the first historical novel from one of Britain's most innovative writers of literary suspense. It brings alive the history of Florence at its most dramatic period, telling a compulsively absorbing story of love, art, religion, and power through the passionate voice of Alessandra, a heroine with the same vibrancy of spirit as her beloved city.
Praise For The Birth of Venus: A Novel…
"Simply amazing, so brilliantly written...almost intolerably exciting at times, and at others, equally poignant."
–Antonia Fraser

"A beautiful serpent of a novel, seductive and dangerous...full of wise guile, the most brilliant novel yet from a writer of powerful historical imagination and wicked literary gifts. Dunant's snaky tale of art, sex and Florentine hysteria consumes utterly–but the experience is all pleasure."
–Simon Schama

"Sarah Dunant has given us a story of sacrifice and betrayal, set during Florence's captivity under the fanatic Savonarola. She writes like a painter, and thinks like a philosopher: juxtapositioning the humane against the animal, hope against fanaticism, creativity against destruction. The Birth of Venus is a tour de force."
–Amanda Foreman, author of Georgiana: Duchess of Devonshire

"Dunant has created a vivid and compellingly believable picture of Renaissance Florence: the squalor and brutality; the confidence and vitality; the political machinations. Her research has obviously been meticulous....A magnificent novel."
–The Telegraph (London)

"It's to Dunant's credit that the vast quantities of historical information in this book are deployed so naturally and lightly....On the simplest level, this is an erotic and gripping thriller, but its intellectual excitement also comes from the way Dunant makes the art and philosophy of the period look new and dangerous again....Theology has rarely looked so sexy."
–The Independent (London)

"No one should visit Tuscany this summer without this book. It is richly textured and driven by a thrillerish fever."
–The Times (London)

"[Dunant's] control, pace, and instinct are well-nigh impeccable."
–The Financial Times
Random House Trade Paperbacks, 9780812968972, 448pp.
Publication Date: November 30, 2004
About the Author
Sarah Dunant has written eight novels and edited two books of essays. She has worked widely in print, television, and radio, and until recently hosted the leading BBC Radio arts program, Night Waves. Now a full-time writer, she is adapting her novels Transgressions and Mapping the Edge for the screen. Dunant has two children and lives in London and Florence.
To schedule a speaking engagement, please contact American Program Bureau at www.apbspeakers.com