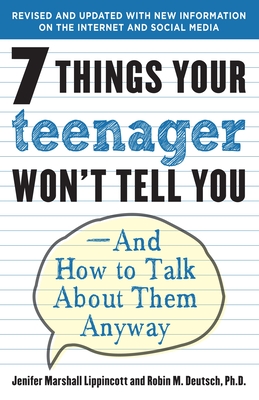 7 Things Your Teenager Won't Tell You: And How to Talk about Them Anyway (Paperback)
And How to Talk about Them Anyway
Ballantine Books, 9780812969597, 272pp.
Publication Date: March 1, 2005
Description
REVISED AND UPDATED 2011 EDITION

The essence of adolescence hasn't changed since this book was first published in 2005. Their brains haven't skipped a growth spurt; their search for identity hasn't been called off or even detoured; they haven't forgotten how to speak with the ease of attitude. And yet, fingers fly across keys to a host of new adolescent domains--from texting to iTunes, from chats to anything-on-demand. This update traverses new adolescent territory, both charted and uncharted, to bring parents up-to-speed on what to expect and how to deal.
Every teenager keeps secrets, and if you're like most parents, you worry about what your kids don't tell you--especially when they prefer text messages and social networking sites to face-to-face conversation. Now this popular guide has been revised and updated to address the challenges parents face with a wired and Web-savvy generation. Jenifer Lippincott and Robin Deutsch offer a deceptively simple plan for talking to your kids that's based on a simple set of rules: Teens need to stay safe, show respect, and keep in touch--online, and in real life.
About the Author
Jenifer Marshall Lippincott has worked with adolescents for more than two decades as a teacher, dean, and learning consultant. She holds a master's degree in human development from Harvard University. She lives in Washington, D.C., with her husband and two adolescents. Robin M. Deutsch, PhD., is the director of the Center of Excellence for Children, Families, and the Law at the Massachusetts School of Professional Psychology, a consultant in the department of psychiatry at Massachusetts General Hospital, and an associate clinical professor at Harvard Medical School. In her psychology practice, she sees children, adolescents, and parents. She successfully survived the adolescence of a son and a daughter.
Praise For 7 Things Your Teenager Won't Tell You: And How to Talk about Them Anyway…
"Page-turners are rare on the parenting bookshelf, but Lippincott and Deutsch have given us just that. Their insights, humor, and excellent judgment make this a must for parents looking for the road map through the adolescent minefield. It is worth every minute you spend with them."—Kyle Pruett, M.D., professor of child psychiatry, Yale School of Medicine, co-author of Partnership Parenting

"7 Things Your Teenager Won't Tell You provides valuable new insights based on contemporary research, while showing parents how to identify the seven features of adolescent thinking through language and behavior. This book offers not only the understanding that is essential to effective and supportive communication but also helpful examples of how to put that understanding into practice."—David Elkind, PhD., author of The Hurried Child
 
"Sound, concrete advice . . . This book gives a wealth of examples to help guide parents who struggle to stay connected during this critical time in their children's lives. I highly recommend it."—Alvin F. Poussaint, M.D., professor of psychiatry, Harvard Medical School
 
"All teens pose unique challenges to their poor unsuspecting parents, but thankfully there are some commonalities. This book shares them with a goldmine of information, and offers concrete suggestions on how to deal."—Robin Raskin, former editor-in-chief of Family PC magazine
Advertisement