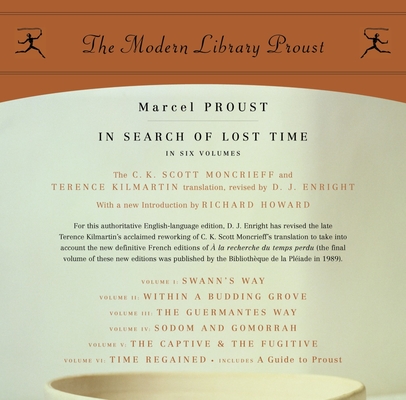 In Search of Lost Time
Proust 6-pack (Modern Library Classics)
Boxed Set

* Individual store prices may vary.
Other Editions of This Title:
Paperback (1/31/2015)
Paperback (12/3/2019)
Paperback (3/17/2021)
Paperback (12/3/2019)
Hardcover (7/13/2015)
Paperback (2/16/1999)
Paperback (2/16/1999)
Paperback (11/3/1998)
Hardcover (5/18/1993)
Description
For this authoritative English-language edition, D. J. Enright has revised the late Terence Kilmartin's acclaimed reworking of C. K. Scott Moncrieff's translation to take into account the new definitive French editions of À la recherche du temps perdu (the final volume of these new editions was published by the Bibliothèque de la Pléiade in 1989).
Praise For In Search of Lost Time: Proust 6-pack (Modern Library Classics)…
"Twice amended to bring it to documentary decorum and the kind of textual completion Proust himself could never achieve, the C. K. Scott Moncrieff translation of the Search, buffed, rebuffed, lightened, tightened, and in the abstergent sense, brightened, constitutes a monument which is also a medium—the medium by which to gain access to the book, the books, even the apocrypha of modern scripture. A triumph of tone, of a single (and singular) vision, this ultimate revision of the primary version affords the surest sled over the ice fields as well as the most sinuous surfboard over the breakers of Proustian prose, an invaluable and inescapable text." —Richard Howard
Modern Library, 9780812969641
Publication Date: June 3, 2003
About the Author
Marcel Proust was born in the Parisian suburb of Auteuil on July 10, 1871. He began work on In Search of Lost Time sometime around 1908, and the first volume, Swann's Way, was published in 1913. In 1919 the second volume, Within a Budding Grove, won the Goncourt Prize, bringing Proust great and instantaneous fame. Two subsequent installments—The Guermantes Way (1920–21) and Sodom and Gomorrah (1921)—appeared in his lifetime. The remaining volumes were published following Proust's death on November 18, 1922: The Captive in 1923, The Fugitive in 1925, and Time Regained in 1927.