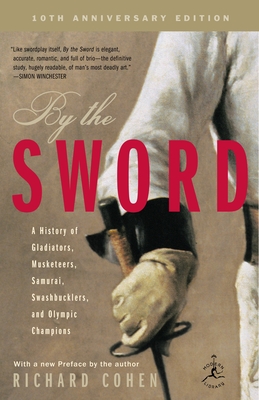 By the Sword: A History of Gladiators, Musketeers, Samurai, Swashbucklers, and Olympic Champions; 10th Anniversary Edition (Paperback)
A History of Gladiators, Musketeers, Samurai, Swashbucklers, and Olympic Champions; 10th Anniversary Edition
Modern Library, 9780812969665, 560pp.
Publication Date: August 5, 2003
Description
Napoleon fenced. So did Shakespeare, Karl Marx, Grace Kelly, and President Truman, who would cross swords with his daughter, Margaret, when she came home from school. Lincoln was a canny dueler. Igantius Loyala challenged a man to a duel for denying Christ's divinity (and won). Less successful, but no less enthusiastic, was Mussolini, who would tell his wife he was "off to get spaghetti," their code to avoid alarming the children. By the Sword is an epic history of sword fighting—a science, an art, and, for many, a religion that began at the dawn of civilization in ancient Egypt and has been an obsession for mankind ever since. With wit and insight, Richard Cohen gives us an engrossing history of the world via the sword.
 
With a new Preface by the author
About the Author
Richard Cohen was five times U.K. national saber champion and was selected for the British Olympic team in 1972, 1976, 1980, and 1984. More recently, he has been four times world veteran saber champion. A former director of the Cheltenham Literature Festival, he is the author of "Chasing the Sun: The Epic Story of the Star That Gives Us Life." He lives in New York City, where he is working on a new book, "The History of Historians."
Praise For By the Sword: A History of Gladiators, Musketeers, Samurai, Swashbucklers, and Olympic Champions; 10th Anniversary Edition…
"Like swordplay itself, By the Sword is elegant, accurate, romantic, and full of brio—the definitive study, hugely readable, of man's most deadly art."—Simon Winchester
 
"Touché! While scrupulous and informed about its subject, Richard Cohen's book is about more than swordplay. It reads at times like an alternative social history of the West."—Sebastian Faulks
 
"In writing By the Sword, [Cohen] has shown that he is as skilled with the pen as he is with the sword."—The New York Times
 
"Irresistible . . . extraordinary . . . vivid and hugely enjoyable."—The Economist
 
"A virtual encyclopedia on the subject of sword fighting."—San Francisco Chronicle
 
"Literate, learned, and, beg pardon, razor-sharp . . . a pleasure for practitioners, and a rewarding entertainment for the armchair swashbuckler."—Kirkus Reviews (starred review)
Advertisement