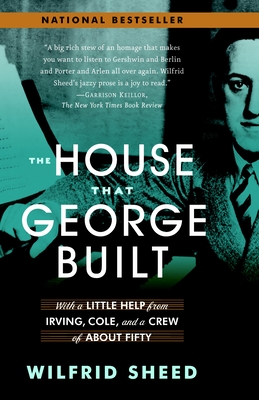 The House That George Built (Paperback)
With a Little Help from Irving, Cole, and a Crew of About Fifty
Random House Trade Paperbacks, 9780812970180, 368pp.
Publication Date: May 13, 2008
* Individual store prices may vary.
Description
From Irving Berlin to Cy Coleman, from "Alexander's Ragtime Band" to "Big Spender," from Tin Pan Alley to the MGM soundstages, the Golden Age of the American song embodied all that was cool, sexy, and sophisticated in popular culture. For four glittering decades, geniuses like Jerome Kern, George Gershwin, Cole Porter, and Harold Arlen ran their fingers over piano keys, enticing unforgettable melodies out of thin air. Critically acclaimed writer Wilfrid Sheed uncovered the legends, mingled with the greats, and gossiped with the insiders. Now he's crafted a dazzling, authoritative history of the era that "tripled the world's total supply of singable tunes."

It began when immigrants in New York's Lower East Side heard black jazz and blues–and it surged into an artistic torrent nothing short of miraculous. Broke but eager, Izzy Baline transformed himself into Irving Berlin, married an heiress, and embarked on a string of hits from "Always" to "Cheek to Cheek." Berlin's spiritual godson George Gershwin, in his brief but incandescent career, straddled Tin Pan Alley and Carnegie Hall, charming everyone in his orbit. Possessed of a world-class ego, Gershwin was also generous, exciting, and utterly original. Half a century later, Gershwin love songs like "Someone to Watch Over Me," "The Man I Love," and "Love Is Here to Stay" are as tender and moving as ever.
Sheed also illuminates the unique gifts of the great jazz songsters Hoagy Carmichael and Duke Ellington, conjuring up the circumstances of their creativity and bringing back the thrill of what it was like to hear "Georgia on My Mind" or "Mood Indigo" for the first time. The Golden Age of song sparked creative breakthroughs in both Broadway musicals and splashy Hollywood extravaganzas. Sheed vividly recounts how Cole Porter, Richard Rodgers, Jerome Kern, and Johnny Mercer spread the melodic wealth to stage and screen.

Popular music was, writes Sheed, "far and away our greatest contribution to the world's art supply in the so-called American Century." Sheed hung out with some of the great artists while they were still writing–and better than anyone, he knows great music, its shimmer, bite, and exuberance. Sparkling with wit, insight, and the grace notes of wonderful songs, The House That George Built is a heartfelt, intensely personal portrait of an unforgettable era.

A delightfully charming, funny, and most illuminating portrait of songwriters and the Golden Age of American Popular Song. Mr. Sheed's carefully chosen depictions and anecdotes recapture that amazingly creative period, a moment in time in which I was so fortunate to be surrounded by all that magic."
–Margaret Whiting


From the Hardcover edition.
About the Author
Wilfred Sheed is the author of six novels, two of which, Office Politics and People Will Always Be Kind, were nominated for National Book Awards. He has written three collections of criticism, one of which was nominated by the National Book Critics Circle. Among his other books is a notable memoir of Clare Boothe Luce, who told him that Irving Berlin was the vainest man she ever met and George Gershwin one of the most basically modest. He lives with his wife, Miriam Ungerer, in North Haven, New York


From the Hardcover edition.