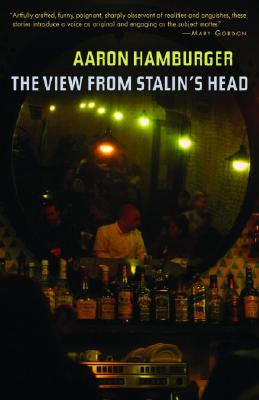 The View from Stalin's Head (Paperback)
Random House Trade Paperbacks, 9780812970937, 272pp.
Publication Date: March 9, 2004
* Individual store prices may vary.
Description
The ten stories in The View from Stalin's Head unfold in the post–Cold War Prague of the 1990s—a magnet not only for artists and writers but also for American tourists and college grad deadbeats, a city with a glorious yet sometimes shameful history, its citizens both resentful of and nostalgic for their Communist past. Against this backdrop, Aaron Hamburger conjures an arresting array of characters: a self-appointed rabbi who runs a synagogue for non-Jews; an artist, once branded as a criminal by the Communist regime, who hires a teenage boy to boss him around; a fiery would-be socialist trying to rouse the oppressed masses while feeling the tug of her comfortable Stateside upbringing. European and American, Jewish and gentile, straight and gay, the people in these stories are forced to confront themselves when the ethnic, religious, political, and sexual labels they used to rely on prove surprisingly less stable than they'd imagined.

As Christopher Isherwood did in his Berlin Stories, Aaron Hamburger offers a humane and subtly etched portrait of a time and place, of people wrestling with questions of love, faith, and identity. The View from Stalin's Head is a remarkable debut, and the beginning of a remarkable career.
About the Author
Aaron Hamburger is the author of the short-story collection The View from Stalin's Head, for which he was awarded the Rome Prize by the American Academy of Arts and Letters. He was awarded a fellowship from the Edward F. Albee Foundation and won first prize in the David Dornstein Memorial Creative Writing Contest for Young Adult Writers. His writing has appeared in The Village Voice, Out, Nerve, and Time Out New York. He teaches writing at Columbia University and lives in New York City.
Praise For The View from Stalin's Head…
"The View from Stalin's Head is a view of life and loss, desire and despair, coming of age, and running away. In short, this stirring debut is a view of everything that matters, accomplished by a brilliant young writer with tremendous gifts."
-Ben Marcus, author of Notable American Women and The Age of Wire and String

"The View from Stalin's Head is just a wonderful collection. One of the loveliest surprises is that things actually happen--there are plots in here! Funny, satisfying and genuinly engrossing, Aaron Hamburger knows how to tell a great story. This book will be good to you."
-Victor LaValle, author of The Ecstatic

"With a sharp eye for outlandish details, absurd turns of phrase, and quiet but monumental moments of realization, Aaron Hamburger lures you into the most intimate worlds of young Czech schoolboys and jaded ex-pats alike. This is a marvelous and honest collection of stories about people searching for identity in a country searching for the same."
-Jessica Shattuck, author of The Hazards of Good Breeding

"To be American, Jewish, Gay, teaching English in Prague: this is the situation limned by Aaron Hamburger in his marvellous collection The View from Stalin's Head. Artfully crafted, funny, poignant, sharply observant of realities and anguishes, these stories introduce a voice as original and engaging as his subject matter. This is a succulent meal indeed!"
-Mary Gordon

"We're definitely not in Paris anymore. The View from Stalin's Head is a triumphant collection of storing chronicling the loves, the losses, and the dreams of denizens of Prague. With charm and wit and force of life, Aaron Hamburger takes us deep inside the city walls. Poignant and laugh-out-loud funny, these stories are as good as they come."
-Binnie Kirshenbaum, author of Hester Among the Ruins
or
Not Currently Available for Direct Purchase