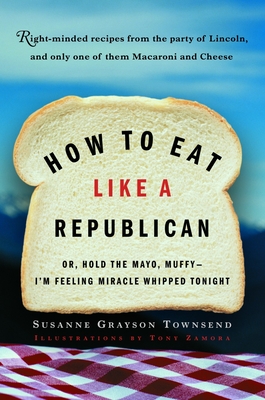 How to Eat Like a Republican (Paperback)
Villard Books, 9780812971026, 192pp.
Publication Date: July 13, 2004
Description
This is part cookbook, part how-to for non-Republicans, part payback ("Thanks, Mom, for all the swell tricks with Lipton Onion Soup Mix"), and part sheer revenge, as in for one horrifying night when the author was invited to dinner by a coven of Democrats under the pretext of eating a decent whole roasted prime tenderloin and was cruelly served a whole roasted baby tuna. Her date, a Republican fish-hater (a Republican redundancy, by the way, see Chapter 3, Fish), memorably reacted by getting dead drunk and passing out at the table with his face in the tuna. This capriciously organized collection of the kinds of homey recipes Republicans grow up on pays little regard to attribution, since, in the words of the author, "Nobody ever remembers where the recipe originally came from anyway.
Praise For How to Eat Like a Republican…
"This is easily the best cookbook of its type since the one put out by the Junior League of St. Louis in the heady Republican days of 1972.  Susie Townsend deserves enormous credit for single-handedly impeaching the unfair culinary disrepute Republicans have suffered since the days of Teddy Roosevelt." –Danny Meyer, Co-author of The Union Square Cafe Cookbook

"Even Democrats will enjoy this witty book and its cleverly named recipes." –Nathalie Dupree, author of New Southern Cooking

"How to Eat Like a Republican is right up my alley–it's full of belly laughs and belly-pleasing recipes." -Paula Deen, bestselling author of The Lady & Sons Savannah Country Cookbook and The Lady & Sons, Too!
Advertisement