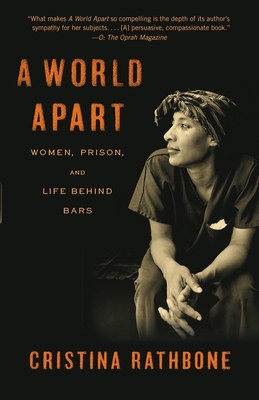 A World Apart (Paperback)
Women, Prison, and Life Behind Bars
Random House Trade Paperbacks, 9780812971095, 304pp.
Publication Date: June 13, 2006
* Individual store prices may vary.
Description
"Life in a women's prison is full of surprises," writes Cristina Rathbone in her landmark account of life at MCI-Framingham. And so it is. After two intense court battles with prison officials, Rathbone gained unprecedented access to the otherwise invisible women of the oldest running women's prison in America.

The picture that emerges is both astounding and enraging. Women reveal the agonies of separation from family, and the prevalence of depression, and of sexual predation, and institutional malaise behind bars. But they also share their more personal hopes and concerns. There is horror in prison for sure, but Rathbone insists there is also humor and romance and downright bloody-mindedness. Getting beyond the political to the personal, A World Apart is both a triumph of empathy and a searing indictment of a system that has overlooked the plight of women in prison for far too long.

At the center of the book is Denise, a mother serving five years for a first-time, nonviolent drug offense. Denise's son is nine and obsessed with Beanie Babies when she first arrives in prison. He is fourteen and in prison himself by the time she is finally released. As Denise struggles to reconcile life in prison with the realities of her son's excessive freedom on the outside, we meet women like Julie, who gets through her time by distracting herself with flirtatious, often salacious relationships with male correctional officers; Louise, who keeps herself going by selling makeup and personalized food packages on the prison black market; Chris, whose mental illness leads her to kill herself in prison; and Susan, who, after thirteen years of intermittent incarceration, has come to think of MCI-Framingham as home. Fearlessly truthful and revelatory, A World Apart is a major work of investigative journalism and social justice.
About the Author
Cristina Rathbone has written for numerous magazines and newspapers, including the New York Daily News and The Miami Herald. Her last book, On the Outside Looking In: A Year in an Inner-City High School, was a finalist for the Los Angeles Times Book Prize and was selected as one of the best books of the year by the New York Public Library. She lives in Jamaica Plain, Massachusetts, with her two young children.
Praise For A World Apart: Women, Prison, and Life Behind Bars…
"Cristina Rathbone is a fearless journalist, not only because she spent five years talking to women inmates at Framingham, but because she would not let the authorities keep her from telling the close-up truth about the lives of women in prison. This book will alter the way we think about the mothers, daughters, wives, and sisters our society has forgotten."
–Eve Ensler, author of The Vagina Monologues

"The crimes committed by American women do not justify the crimes now being committed against them in our prisons. Cristina Rathbone has written a powerful book about the cruelty of this system, full of eloquence, dark humor, and compassion."
–Eric Schlosser, author of Fast Food Nation

"This is an important, hard-won book, throughout which the deepest meanings of commitment come to bear: the unjust commitment of women to our nation's prisons, the women's commitment to their families and the risks of hope, and, as strikingly, Cristina Rathbone's commitment to her profession and her craft."
–Adrian Nicole LeBlanc, author of Random Family


"A World Apart should be required reading for all Americans, and especially those concerned about gender and justice. Through compelling narratives of inmate lives, interspersed with historical background, Rathbone exposes the high personal and social costs of poverty, violence, and sexual coercion. Beautifully presented, these stories provide both raw and tender accounts of institutional life, documenting as well women's struggles to break the cycle of institutionalization. The contrast between historical episodes of prison reform and the contemporary disaster of women's prisons will sadden and should enrage readers."
–Estelle B. Freedman, Edgar E. Robinson professor of U.S. history, Stanford University, author of Their Sisters' Keepers: Women's Prison Reform in America, 1830—1930