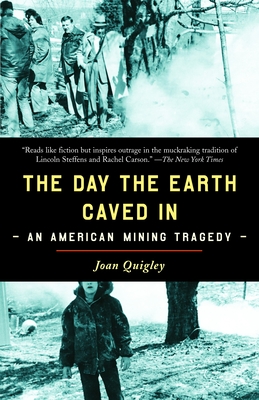 The Day the Earth Caved In (Paperback)
An American Mining Tragedy
Random House Trade Paperbacks, 9780812971309, 288pp.
Publication Date: April 14, 2009
Other Editions of This Title:
Hardcover (4/3/2007)
* Individual store prices may vary.
Description
Beginning on Valentine's Day, 1981, when twelve-year-old Todd Domboski plunged through the earth in his grandmother's backyard in Centralia, Pennsylvania, The Day the Earth Caved In is an unprecedented and riveting account of the nation's worst mine fire. In astonishing detail, award-winning journalist Joan Quigley, the granddaughter of Centralia miners, ushers readers into the dramatic world of the underground blaze. Drawing on interviews with key participants and exclusive new research, Quigley paints unforgettable portraits of Centralia and its residents, from Tom Larkin, the short-order cook and ex-hippie who rallied the activists, to Helen Womer, the bank teller who galvanized the opposition, denying the fire's existence even as toxic fumes invaded her home. Like Jonathan Harr's A Civil Action, The Day the Earth Caved In is a seminal investigation of individual rights, corporate privilege, and governmental indifference to the powerless.
About the Author
Joan Quigley first glimpsed the Centralia mine fire at age fifteen, during her grandmother's funeral at St. Ignatius Cemetery. A former Miami Herald business reporter, she is a graduate of Princeton and of Columbia University's Graduate School of Journalism. She is a recipient of the J. Anthony Lukas Work-in-Progress Award for this book.
Praise For The Day the Earth Caved In: An American Mining Tragedy…
"Reads like fiction but inspires outrage in the muckraking tradition of Lincoln Steffens and Rachel Carson."—New York Times

"A real-life epic of brutally indifferent government, greedy corporations, and the unlikely heroes. You'll feel enraged to know the truth of what happened in our mountains and proud of your fellow Americans who took on Goliath."—John Passacantando, executive director, Greenpeace USA

"A thorough and often passionate account . . . The Day the Earth Caved In shines."—Washington Post Book World

"Fascinating . . . [an] excellent study."—Denver Post

"First-rate research and journalism."—Kirkus Reviews, starred review

"It is quite a story."— Wall Street Journal

" Quigley's riveting account of the nation's most devastating mine fire will change the way you think about so-called natural disasters, and the emotions we attach to the places we call home. This is an extraordinary book." —Sean Wilentz, author of The Rise of American Democracy

"If you can imagine a book that combines the gritty dignity of How Green Was My Valley with the muckraking of Silent Spring, then you have some sense of this deeply affecting work."—Samuel G. Freedman, author of Upon This Rock

"Joan Quigley, the granddaughter of coal miners, has combined meticulous reporting and personal passion to bring us this important book — one that illuminates an underground blaze that many corporate and government officials sought to smother and conceal." —Gay Talese, author of A Writer's Life

"Quigley takes this complex story involving politics, science and history and weaves it into something that informs and entertains."—Lexington Herald-Leader
or
Not Currently Available for Direct Purchase