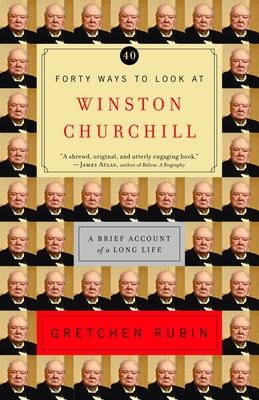 Forty Ways to Look at Winston Churchill: A Brief Account of a Long Life (Paperback)
A Brief Account of a Long Life
Random House Trade, 9780812971446, 336pp.
Publication Date: May 11, 2004
* Individual store prices may vary.
or
Not Currently Available for Direct Purchase
Description
A WALL STREET JOURNAL SUMMER PICK
A WASHINGTON POST BESTSELLER
Warrior and writer, genius and crank, rider in the British cavalry's last great charge and inventor of the tank, Winston Churchill led Britain to fight alone against Nazi Germany in the fateful year of 1940 and set the standard for leading a democracy at war. With penetrating insight and vivid anecdotes, Gretchen Rubin makes Churchill accessible and meaningful to twenty-first-century readers by analyzing the many contrasting views of the man: he was an alcoholic, he was not; he was an anachronism, he was a visionary; he was a racist, he was a humanitarian; he was the most quotable man in the history of the English language, he was a bore.
Like no other portrait of its famous subject, Forty Ways to Look at Winston Churchill is a dazzling display of facts more improbable than fiction. It brings to full realization the depiction of a man too fabulous for any novelist to construct, too complex for even the longest narrative to describe, and too significant ever to be forgotten.
About the Author
GRETCHEN CRAFT RUBIN received her undergraduate and law degrees from Yale and was editor-in-chief of the Yale Law Journal. She clerked for Justice Sandra Day O Connor of the U.S. Supreme Court and served as counsel to Federal Communications Commissions Chairman Reed Hundt. She teaches at Yale Law School and School of Management and is the author of Power Money Fame Sex: A User s Guide. Visit the author s Web site at www.gretchenrubin.com"
Praise For Forty Ways to Look at Winston Churchill: A Brief Account of a Long Life…
"A compelling read . . . Gretchen Rubin has produced a shrewd, original, and utterly engaging book, one that achieves the considerable feat of distilling an epic life to its essence while deconstructing the art of biography. Forty Ways to Look at Winston Churchill does for the writing of history what Wallace Stevens's 'Thirteen Ways of Looking at a Blackbird' did for poetry—both does it and shows us how it's done."
—JAMES ATLAS, author of Bellow: A Biography

"At last! A book to put all the other books on Churchill into perspective. The Great Man was in danger of becoming hidden by the forest of verbiage in his memory. Gretchen Rubin cuts a clear path to her subject, and along the way takes the reader on a fascinating and hilarious journey."
—AMANDA FOREMAN, bestselling author of Georgiana: Duchess of Devonshire

"Was there ever a better subject for biography? Heroic, petty, noble, selfish, courageous, devious, grandiloquent, plain-speaking, generous, tyrannical, Churchill was all these and more. Rubin strives to capture the essence of her larger-than-life subject not through a head-on assault, but by circling him and taking snapshots from a multiplicity of angles. Her Forty Ways to Look at Winston Churchill is a feat of intelligent compression, a stereoscopic portrait for the space age, a biography in miniature, and not least, a rattling good read."
—MICHAEL SCAMMELL, author of Solzhenitsyn: A Biography

Advertisement