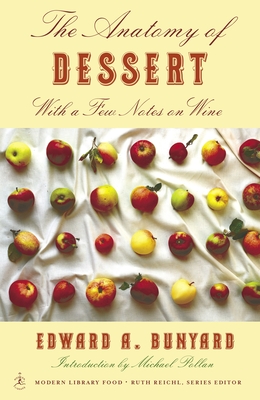 The Anatomy of Dessert: With a Few Notes on Wine (Paperback)
With a Few Notes on Wine
Modern Library, 9780812971576, 120pp.
Publication Date: May 1, 2006
* Individual store prices may vary.
or
Not Currently Available for Direct Purchase
Description
"Filled with quirky surprises and things you would have never thought to ask, Bunyard's celebration of fruit is endlessly entertaining."
-Mark Kurlansky, author of Salt, Cod, and The Big Oyster When we think of dessert, our mind's eye sees cakes, pies, and pastries. Yet the truly creative palate imagines things even more tempting, decadent, and, yes, sinful. So claims Edward Bunyard in this delectable paean to the wonderful fruits of the vine, from apples and apricots to gooseberries and strawberries, from pears to the grapes that give us wine. Bunyard, a nurseryman at the turn of the last century, lovingly devotes a chapter to each fruit, sharing a heartfelt disquisition on the many types of strawberries, in which bigger is not always better; revealing how denizens of cooler and warmer climes differ in their perceptions about grapes; and asserting that "immoderate indulgence" in melon has toppled great dynasties and changed the course of history. Bunyard even offers advice on the most delightful wine and fruit pairings, and settles once and for all the debate that has raged for nearly three millennia: Which are tastier, hothouse figs or the outdoor variety. Introduced by Michael Pollan, The Anatomy of Dessert is a cornucopia of wisdom that's never out of season. It is time again to savor this classic work, first published in 1929, that gives above-the-title billing to the myriad foodstuffs we often refer to as "afters." So come and partake in the fruits of Edward Bunyard's labor of love.
About the Author
Born in Kent, England, Edward A. Bunyard (1878-1939) was a food writer and author of The Anatomy of Dessert, A Handbook of Hardy Fruits, and The Epicure's Companion.
Advertisement