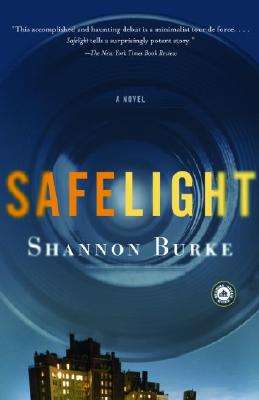 Safelight
A Novel
Paperback

* Individual store prices may vary.
Description
It's 1990, and New York City is in shambles: unemployment reigns, crack wars rage, and whole neighborhoods burn as delinquent landlords cash in. Struggling to come to terms with his father's death, paramedic and photographer Frank Verbeckas descends into the chaos and misery of upper Manhattan, taking photographs of the ill, the wounded, the dying, and the down-and-out. Accompanying him on his wanderings are his loudmouthed partner, Burnett; his best friend, Hock, who boosts drugs from the hospital; and his brother, Norman, a surgeon who can't understand why Frank is in such pain. Frank's ruin seems inevitable, but when he meets Emily, a professional fencer whose days are numbered by a fatal illness, his world changes. Against everyone's advice, Frank and Emily fall in love. Together, they try to find a way out of the murk of guilt and sadness and learn to draw meaning and beauty from despair.

In short, cinematic scenes, with not a word wasted and nothing told that can be shown, Shannon Burke leads us on a powerful journey through the darkest precincts of the street and of the soul. Honest, terse, and enormously moving, Safelight is a debut of remarkable depth, a stunning, clear-eyed, and sympathetic portrait of American life and death–a love story not for the faint of heart.
Praise For Safelight: A Novel…
"Safelight, Shannon Burke's novel of paramedics and violent death in New York's tougher quarters, is provoking and disturbing. How could it be otherwise? What is startling and unexpected, however, is that despite the unblinking, bloodstained photo-realism of its reportage, Safelight is above all a work of nerveless intelligence, disarming tenderness, and hard-won optimism."
–JIM CRACE

"There is a dark side in all of us and Burke is not afraid of it. In Safelight, he explores our all-too-human instincts without pity, condescension, or romance. He creates characters that are real, that feel, and that make us feel–and he does so with formidable grace. This book will make you cry. But it will be worth it."
–ALLISON GLOCK

"Burke immerses the reader in the urgent world of emergency medicine. Using photography sometimes as his weapon, sometimes as his moral eye, paramedic Frank Verbeckas explores the blurred lines between victim and victimizer, the criminal and the cop, as well as his own difficult past. It is a stunning debut novel about what it is to be human, to feel."
–A. M. HOMES




"A powerful, hypnotic, and strangely beautiful vision of hell on earth. Burke's voice floats out over our hemisphere amidst the distinctive strains of Denis Johnson, Raymond Carver, and Frederick Exley. But in the end, his frequency is all his own. A fearless debut."
–GARY SHTEYNGART

"Pitch-perfect dialogue and [a] feel for male camaraderie give [Safelight] an electric charge. . . . Burke's evocation of a murky world, where savior and sinner come in one macho package, . . . makes this an exhilarating standout."
Kirkus Reviews (starred review)
Random House Trade Paperbacks, 9780812971743, 256pp.
Publication Date: September 13, 2005
About the Author
SHANNON BURKE is a novelist and screenwriter. Before moving to his current home in Knoxville, he worked as a paramedic in Harlem and lived in Chicago; Chapel Hill; New Orleans; Los Angeles; Prescott, Arizona; Bryan, Texas; and Mexico. Safelight is his first novel.
or
Not Currently Available for Direct Purchase