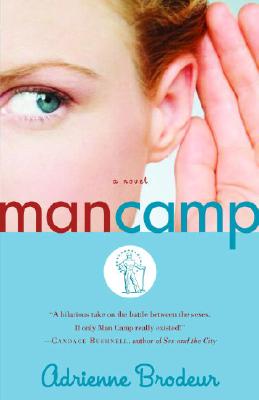 Man Camp (Paperback)
A Novel
Ballantine Books, 9780812971903, 224pp.
Publication Date: June 27, 2006
* Individual store prices may vary.
Description
A biologist studying patterns of sexual selection, Lucy Stone knows a lot about mating–particularly that in the animal kingdom, males will go to any length to attract females. Why, then, are their human counterparts so hopeless in courtship?

This is the question that Lucy and her best friend, Martha McKenna, struggle to answer. Consider Adam, Lucy's boyfriend of two years, who demonstrates on an ostensibly romantic camping trip that he can't build a fire, split wood, or jump-start a car. Worse still, he's scared to go into the woods after dark. Or take Jesse, Martha's younger brother, an opera aficionado and neurotic extraordinaire who can't summon the courage to make the first move on the woman he's crazy about. And what about the extensive list of men with whom Martha has endured the torments of the first date.

But then there's Cooper Tuckington, Lucy's best friend from college. Born and bred on his family's West Virginia dairy farm, Cooper fits anyone's description of a man's man, and yet he is chivalrous and charming. During his annual visit to New York City, he rewires Lucy's lamps, builds her shelves, and holds forth on subjects from great painters to the great outdoors, all the while pulling out chairs and opening doors for the ladies. Surely, think Martha and Lucy, the men in their lives would benefit from the tutelage of someone who knows how to treat a woman.

Thus, Man Camp is born. With a little feminine persuasion, Lucy and Martha convince Adam, Jesse, and a handful of their other male acquaintances to visit Cooper's farm, where they will learn everything a guy should know, from cars to carpentry to chivalry–and that's just the C's. But life on the farm isn't exactly as it seems–and the boys soon prove themselves in ways the women would never have imagined. In the process, Lucy and Martha themselves learn a good bit about life and love.

The perfect can't-put-it-down novel for all of us who've needed to bring out the inner man in the men we love, Man Camp is a brilliant, witty, and insightful romp through the wilds of dating and mating.


From the Hardcover edition.
About the Author
Adrienne Brodeur was the founding editor of Zoetrope: All-Story. She lives in New York City.


From the Hardcover edition.
Praise For Man Camp: A Novel…
Advance praise for Man Camp

"A hilarious take on the battle between the sexes. If only 'Man Camp' really existed!"
–Candace Bushnell, author of Sex and the City

"Faster than a speeding cab, more fun than a barrel of primates, Man Camp is both a rollicking romp and a novel that's all heart, with characters as real and lovable as your own best friends."
–Melissa Bank, author of The Girls' Guide to Hunting and Fishing

"Adrienne Brodeur is the Audubon of love and mating habits in the big city. One peek through her binoculars and you'll be hooked. Funny, disarming, and real, Man Camp is a dazzling debut by a gifted writer with a big heart."
–Adriana Trigiani, author of the Big Stone Gap Trilogy and Lucia, Lucia

"Man Camp is a great concept and Brodeur's debut novel is filled with hilarious details, exploring the very funny (but true) list of things men should just know."
–Jill A. Davis, author of Girls' Poker Night

"As the sort of guy who could probably use a few weeks at Man Camp, I felt right at home in this breezy comedy of manners. It's a delightful romp and a great summer read."
–Steve Almond, author of Candy Freak and My Life in Heavy Metal

"Do you want to laugh out loud while living every woman's fantasy of changing mankind? If so, you'll be tickled pink by Adrienne Brodeur's delicious prose and brilliant comedy. I loved this novel."
–Martha McPhee, author of Bright Angel Time



From the Hardcover edition.
or
Not Currently Available for Direct Purchase