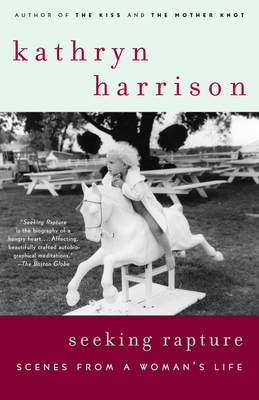 Seeking Rapture: Scenes from a Woman's Life (Paperback)
Scenes from a Woman's Life
Random House Trade, 9780812972054, 208pp.
Publication Date: June 1, 2004
* Individual store prices may vary.
or
Not Currently Available for Direct Purchase
Description
A NEW YORK TIMES NOTABLE BOOK In this exquisite book of personal reflections on a woman's life as a child, wife, and mother, Kathryn Harrison, "a writer of extraordinary gifts" (Tobias Wolff), recalls episodes in her life, exploring how the experiences of childhood recur in memory, to be transformed and sometimes healed through the lives we lead as adults. At the heart of Seeking Rapture is the notion that a woman's journey is a continuous process of transformation, an ongoing transcendence and re-creation of self.
About the Author
Kathryn Harrison is the author of the novels The Seal Wife, The Binding Chair, Poison, Exposure, and Thicker Than Water. She has also written a memoir, The Kiss. Her personal essays, including some from the collection Seeking Rapture, have appeared in The New Yorker, Harper's magazine, and other publications. She lives in New York with her husband, the novelist Colin Harrison, and their children. She can be reached at thebindingchair@yahoo.com. From the Hardcover edition.
Praise For Seeking Rapture: Scenes from a Woman's Life…
"Seeking Rapture is the biography of a hungry heart. . . . Affecting, beautifully crafted autobiographical meditations."
—The Boston Globe

"Revealing . . . [Harrison] has produced enthralling essays that bring to mind the robust metaphysics of Kathleen Norris and Patricia Hampl. Kathryn Harrison has challenged herself—and won—with her passionate, rigorous thinking on family bonds and family bondage, and the mysterious intersections of body and spirit."
—The New York Times Book Review

"[A] rich collection . . . Harrison aims, over the distance of time and often with dazzling accuracy, for unflinching display of motivations. . . . Such fastidious recall is a Proustian gift. With all due regard for her achievement as a novelist, Harrison appears Proust-like in another respect: She is her own truest subject, an unending wellspring of emotion and restless quest."
—Los Angeles Times

"Harrison remains a master of her craft, with musings that are lyrical, insightful, and haunting."
—Entertainment Weekly

"It's her fierce devotion to her absent mother that gives this book its shimmering grace."
—Organic Style

"Poignant glimpses into the life of a survivor."
—Kirkus Reviews

"The prose sings....Harrison [is] at her thoughtful, provocative best, mindful of the flaws and desires within everyone."
—Publishers Weekly
Advertisement