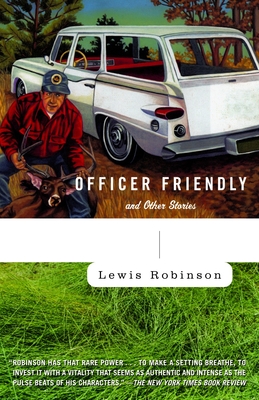 Officer Friendly
and Other Stories
Paperback

* Individual store prices may vary.
Description
The stories in this acclaimed debut all take place in the state of Maine—which quickly comes to stand for the state we're all in when we face the moments that change our lives forever. Two roughneck hockey players are kicked off the team and forced to join the drama club. A young bartender at a party of coastal aristocrats has to deal with the surreal request to put a rich old coot out of his misery. Can a father defend his family if the diver helping to free the tangled propeller of their boat turns out to be a real threat?

With humor, a piercing eye, and a sense that danger often lies just around the corner, Robinson gives us a variety of vivid characters, wealthy and poor, delinquent and romantic, while illuminating the mythic, universal implications of so-called ordinary life. These stories are at once classic and modern; taken together, they bring the good news that an important, compassionate new voice in American fiction has arrived.
Praise For Officer Friendly: and Other Stories…
"Robinson has that rare power . . . to make a setting breathe, to invest it with a vitality that seems as authentic and intense as the pulse beats of his characters."
—The New York Times Book Review

"Eleven letter-perfect stories with the keen understanding of human nature readers expect to find in works by veterans like Alice Munro."
—San Francisco Chronicle

"[A] faultless debut collection. Combining vivid characters with a pulsing narrative drive, these pieces are tight like Carver's work is tight. . . . Robinson is tremendously adept at building menace slowly, quietly, and the shocks as these stories unfold is one of their greatest pleasures."
—Esquire

"If good writing is like a good suit—durable, seamless and decidedly non-flashy—then . . . Lewis Robinson [is a] master tailor. . . . skilled at observing what makes people tick and what makes them trip. . . . Amusing and satisfying."
—The Washington Post

"Tight, barbed, menacing, yet also humorous . . . Men in Mr. Robinson's fiction have a way of assessing their prospects with . . . unflinching clarity. . . . All of Mr. Robinson's piquant characters are tested and transformed by [Point] Allison in some way. Collectively, they put the place—and the author—on the map."
—New York Times

"So rich with strange characters and twists and turns of plot that it doesn't feel like a short-story collection at all: it feels like a film festival. . . . You wouldn't want to live in Point Allison, but Robinson makes it hard to leave."
—Newsweek

"[Officer Friendly] has the lustrous finish and satisfying heft of classic craftsmanship. . . . Fully formed, totally irresistible, and refreshingly retrograde . . . [The characters'] predicaments have the unfailing power to elicit surprise, recognition and wonder. . . . Robinson has an eye for the complex misunderstandings that bind people—best friends, lovers, kids and their parents. It's knotty, no-nonsense stuff, but Robinson works it into heirlooms."
—Los Angeles Times

"The prose in Robinson's debut collection . . . is polished to a clean, uncluttered purity. . . . Not so much stark as unpretentious and honest, these sentences seem to bore their way into the very heart of things."
—Chicago Tribune

"Worth reading for the worlds of detail that Robinson tucks into his sentences . . . Robinson at his finest in this book [is] weird, thrilling, fascinating."
—The Miami Herald

"Lewis Robinson feels the pulse of Maine's conflicted heart. With unerring lucidity, his fiction captures the uneasy truce between its natives and summer people, the haves and the have-nots, those restless for more and those longing for less."
—Bangor Daily News

"Robinson writes stories that feel like miniature novels, mostly because they make you desperate to know what will happen in the end. . . . A great debut."
—The Arizona Republic

"These are wonderful stories. With an impeccable sense of timing and razor-sharp depictions of character, Lewis Robinson takes the reader through incidents that are too intriguing to resist: funny, unexpected, and always oddly poignant, this storyteller has a voice that pulls you right in."
—Elizabeth Strout

"This guy has explosive talent. 'Puckheads' is one of the best coming-of-age stories you'll ever read. But then how does he know what a pregnant med student feels holding her own belly, cutting into a live pig, or how an old lady, slightly askew, ladling soup, saturates you with affection? He zaps you every half sentence, and soon you can almost remember how it was back in med school, but it's just Lewis Robinson fiddling with your brain. He's got everything under control."
—Matthew Klam

"Robinson establishes himself as a writer with a seductive, edgy voice in this dark debut collection. . . . Keeping a judicious distance from his characters, Robinson allows ingenious plotting and scene-setting to drive these coolly absorbing stories."
—Publishers Weekly

"Quirky . . . Crisp . . . Immediately hook[s] readers with vivid and sometimes oddball characters . . . What makes these stories so compelling is that nothing is as it seems. . . . Plots often take shocking twists, and humor arises in frankly unfunny situations."
—Library Journal

"In crisp, concise prose, Robinson probes unusual aspects of the human condition in this debut collection of stories with an edge that snags the reader's memory."
—Booklist





Random House Trade Paperbacks, 9780812972276, 248pp.
Publication Date: May 11, 2004
About the Author
Lewis Robinson is the author of Water Dogs and Officer Friendly and Other Stories, and winner of the PEN/Oakland-Josephine Miles Literary Award. A graduate of Middlebury College and the Iowa Writers' Workshop, he received a Whiting Award in 2003. He has taught in the Stonecoast MFA program at the University of Southern Maine, as well as at the University of Iowa, Colby College, and Stanford University. He lives with his wife and their daughter in Portland, Maine.