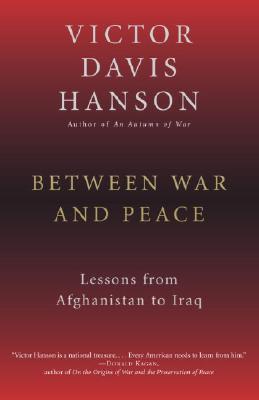 Between War and Peace: Lessons from Afghanistan to Iraq (Paperback)
Lessons from Afghanistan to Iraq
Random House Trade, 9780812972733, 304pp.
Publication Date: February 10, 2004
* Individual store prices may vary.
or
Not Currently Available for Direct Purchase
Description
In his acclaimed collection An Autumn of War, the scholar and military historian Victor Davis Hanson expressed powerful and provocative views of September 11 and the ensuing war in Afghanistan. Now, in these challenging new essays, he examines the world's ongoing war on terrorism, from America to Iraq, from Europe to Israel, and beyond.
In direct language, Hanson portrays an America making progress against Islamic fundamentalism but hampered by the self-hatred of elite academics at home and the cynical self-interest of allies abroad. He sees a new and urgent struggle of evil against good, one that can fail only if -we convince ourselves that our enemies fight because of something we, rather than they, did.-
Whether it's a clear-cut defense of Israel as a secular democracy, a denunciation of how the U.N. undermines the U.S., a plea to drastically alter our alliance with Saudi Arabia, or a perception that postwar Iraq is reaching a dangerous tipping point, Hanson's arguments have the shock of candor and the fire of conviction.
About the Author
Victor Davis Hanson was educated at the University of California, Santa Cruz, and the American School of Classical Studies at Athens, and received his Ph.D. in Classics from Stanford University. He farmed full-time for five years before returning to academia in 1984 to initiate a Classics program at California State University, Fresno. Currently, he is Professor of Classics there and Coordinator of the Classical Studies Program. Hanson has appeared in The New York Times, Wall Street Journal, Daily Telegraph, International Herald Tribune, American Heritage, City Journal, American Spectator, National Review, Policy Review, The Wilson Quarterly, The Weekly Standard, and the Washington Times, and has been interviewed on numerous occasionas on National Public Radio and the BBC, and appeared with David Gergen on The NewsHour with Jim Lehrer. He writes a biweekly column about contemporary culture and military history for National Review Online. He has written or edited eleven books, including The Western Way of War, The Soul of Battle, and Carnage and Culture. He is a Senior Fellow of the Hoover Institute, Stanford University.
Praise For Between War and Peace: Lessons from Afghanistan to Iraq…
"Victor Hanson is a national treasure. . . . Every American needs to learn from him."
—Donald Kagan, author of On the Origins of War and the Preservation of Peace
Advertisement