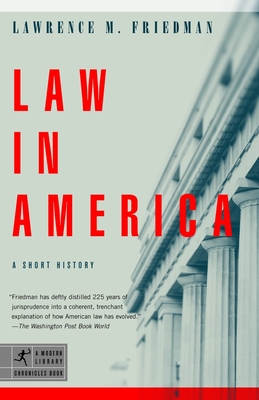 Law in America: A Short History (Paperback)
A Short History
Modern Library, 9780812972856, 224pp.
Publication Date: October 12, 2004
Description
Throughout America's history, our laws have been a reflection of who we are, of what we value, of who has control. They embody our society's genetic code. In the masterful hands of the subject's greatest living historian, the story of the evolution of our laws serves to lay bare the deciding struggles over power and justice that have shaped this country from its birth pangs to the present. Law in America is a supreme example of the historian's art, its brevity a testament to the great elegance and wit of its composition. From the Hardcover edition.
About the Author
Lawrence M. Friedman is Marion Rice Kirkwood Professor of Law at Stanford University. He is the author of more than twenty-three books, including American Law in the Twentieth Century, A History of American Law, and Crime and Punishment in American History. Professor Friedman is a fellow of the American Academy of Arts and Sciences and the recipient of numerous awards. From the Hardcover edition.
Praise For Law in America: A Short History…
"Law in America is a little gem. It is a peerless introduction to our legal history—concise, clear, tellingly told, and beautifully written. The greatest living historian of American law has done it again."
—Stanley N. Katz,
former president of the American Society for Legal History and the Organization of American Historians

"All societies have laws, but neither all laws nor all legal systems are alike. No one has thought more deeply or written more clearly about the peculiar role of law in American life than Lawrence Friedman. In this trenchant, illuminating book, he distills a lifetime of scholarship and teaching into a concise and provocative explanation of the role that law has played in shaping the distinctive contours of American history and culture."
—David M. Kennedy,
professor of history at Stanford University and author of Freedom from Fear
Advertisement