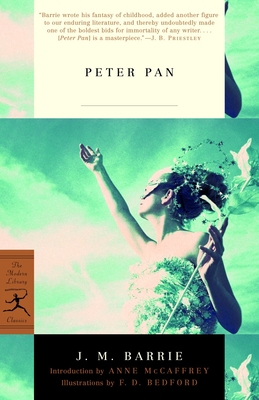 Peter Pan (Paperback)
Modern Library, 9780812972979, 159pp.
Publication Date: October 12, 2004
Description
Peter, Wendy, Captain Hook, the lost boys, and Tinker Bell have filled the hearts of children ever since Barrie's play first opened in London in 1904 and became an immediate sensation. Now this funny, haunting modern myth is presented with Bedford's wonderful illustrations, which first appeared in the author's own day, have long been out of print, and have never been equaled.
About the Author
ANNE MCCAFFREY was born in Cambridge, Massachusetts, and graduated cum laude from Radcliffe College, where she majored in Slavonic languages and literatures. A prolific bestselling author, McCaffrey is best known for her Dragonriders of Pern series. She lives in County Wicklow, Ireland.
Praise For Peter Pan…
"Barrie wrote his fantasy of childhood, added another figure to our enduring literature, and thereby undoubtedly made one of the boldest bids for immortality of any writer. . . . It is a masterpiece."
–J. B. PRIESTLEY
Advertisement