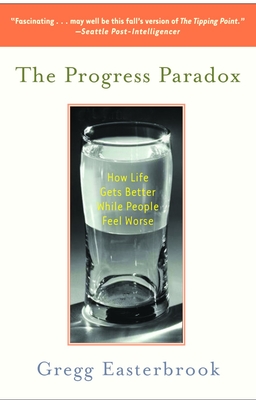 The Progress Paradox (Paperback)
How Life Gets Better While People Feel Worse
Random House Trade Paperbacks, 9780812973037, 400pp.
Publication Date: November 9, 2004
Other Editions of This Title:
Digital Audiobook (9/2/2003)
Digital Audiobook (11/24/2003)
* Individual store prices may vary.
Description
In The Progress Paradox, Gregg Easterbrook draws upon three decades of wide-ranging research and thinking to make the persuasive assertion that almost all aspects of Western life have vastly improved in the past century–and yet today, most men and women feel less happy than in previous generations.

Detailing the emerging science of "positive psychology," which seeks to understand what causes a person's sense of well-being, Easterbrook offers an alternative to our culture of crisis and complaint. He makes a compelling case that optimism, gratitude, and acts of forgiveness not only make modern life more fulfilling but are actually in our self-interest. An affirming and constructive way of seeing life anew, The Progress Paradox will change the way you think about your place in the world–and about our collective ability to make it better.
About the Author
GREGG EASTERBROOK is a senior editor of The New Republic, a contributing editor of The Atlantic Monthly, a visiting fellow in economics at the Brookings Institution, and a columnist for ESPN.com. He is the author of six books, including A Moment on the Earth, a New York Times and American Library Association Notable Book. He has also been a contributing editor at Newsweek and an editor of The Washington Monthly. He lives in Maryland and can be reached via the Internet at www.greggeasterbrook.com.
Praise For The Progress Paradox: How Life Gets Better While People Feel Worse…
"The Progress Paradox raises some provocative questions. . . . This is a book meant to challenge left and right–keep both sides off balance. . . . A welcome antidote to the demagoguery prevalent in political discussion today."
–Los Angeles Times

"Well-constructed, civic-minded . . . full of compelling statistics and anecdotes . . . a convincing case for good cheer."
–The New York Times Book Review

"Lively . . . combines a vast amount of scholarly research and reporting to generate a thoughtful, sustained argument."
–BusinessWeek

"Utterly engaging . . . There are surprises all through it, and some startling refutations of conventional wisdoms."
–Baltimore Sun

"With the lively wit and contrarian insight that is a regular feature of his articles in The New Republic . . . Mr. Easterbrook offers a bracing reminder of what is too often forgotten but difficult to deny: In the West in the past fifty years, life has gotten steadily better."
–The Wall Street Journal

"Excellent."
–The Economist


Fascinating. . . may well be this fall's version of The Tipping Point."
–Seattle Post-Intelligencer