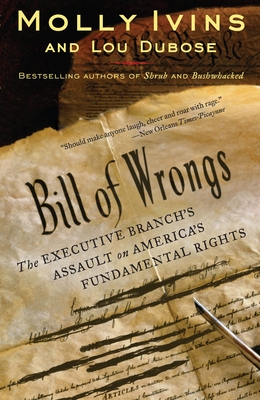 Bill of Wrongs: The Executive Branch's Assault on America's Fundamental Rights (Paperback)
The Executive Branch's Assault on America's Fundamental Rights
Random House Trade, 9780812973082, 214pp.
Publication Date: October 14, 2008
Description
In this, her final and perhaps greatest book, Molly Ivins launches a counterattack on the executive branch's shredding of our cherished Bill of Rights. From illegal wiretaps and the unlawful imprisonment of American citizens to the creeping influence of religious extremism on our national agenda and the erosion of the checks and balances that prevent a president from seizing unitary powers, Ivins and her longtime collaborator, Lou Dubose, describe the attacks on America's vital constitutional guarantees. With devastating humor and keen eyes for deceit and hypocrisy, they show how severe these incursions have become, and they ask us all to take an active role in protecting the Bill of Rights. Praise for Bill of Wrongs "Should make anyone laugh, cheer and roar with rage."
-New Orleans Times-Picayune " Molly Ivins is] wonderfully direct about the costs of our lost civil liberties. . . . Ivins' voice-in all its drawling, acerbic, storytelling, fearless glory-is stilled now. . . . But her message lives on. And every thoughtful American ought to be listening."
-The Buffalo News

"With her characteristic acerbic humor, Ivins and colleague Dubose dissect the myriad attacks the Bush administration has made on the Bill of Rights and how ordinary citizens have fought back."
-Booklist "Ivins' own description of the book is spot-on: 'a hopeful and gladsome romp through some serious terrain."
-The New York Observer "A truly compelling read . . . filled with devastating humor and razor-sharp commentary."
-Austinist
About the Author
Molly Ivins, a three-time Pulitzer Prize finalist, began her career in journalism as the complaint department of the Houston Chronicle. She then went on to work for The Texas Observer, as co-editor, and The New York Times, as a political reporter and later as Rocky Mountain bureau chief. In 1982, she returned to Texas. Her column was syndicated in more than three hundred newspapers, and her freelance work appeared in Esquire, The Atlantic Monthly, The New York Times Magazine, The Nation, Harper's, and other publications. Her first book, Molly Ivins Can't Say That, Can She?, spent more than a year on the New York Times bestseller list. Her books with Lou Dubose on George W. Bush, Shrub and Bushwhacked, were also New York Times bestsellers. Molly Ivins died in January 2007. Lou Dubose has written about Texas and national politics for thirty years. He was editor of The Texas Observer and politics editor for The Austin Chronicle, and he currently edits The Washington Spectator. He was co-author (with Molly Ivins) of Shrub and Bushwhacked. In 2003 he wrote (with Texas Monthly writer Jan Reid) The Hammer: Tom DeLay, God, Money, and the Rise of the Republican Congress. In 2006 he wrote (with Texas Observer editor Jake Bernstein) Vice: Dick Cheney and the Hijacking of the American Presidency. From the Hardcover edition.
Advertisement