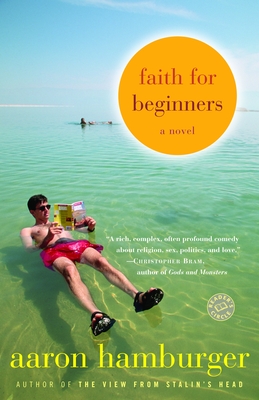 Faith for Beginners (Paperback)
A Novel
Random House Trade Paperbacks, 9780812973204, 360pp.
Publication Date: November 14, 2006
* Individual store prices may vary.
Description
An acclaimed short-story writer has created a miraculous first novel about an American family on the verge of a breakdown–and an epiphany.

In the summer of 2000, Israel teeters between total war and total peace. Similarly on edge, Helen Michaelson, a respectable suburban housewife from Michigan, has brought her ailing husband and rebellious college-age son, Jeremy, to Jerusalem. She hopes the journey will inspire Jeremy to reconnect with his faith and find meaning in his life . . . or at least get rid of his nose ring.

It's not that Helen is concerned about Jeremy's sexual orientation (after all, her other son is gay as well). It's merely the matter of the overdose ("Just like Liza!" Jeremy had told her), the green hair, and what looks like a safety pin stuck through his face. After therapy, unconditional love, and tough love . . . why not try Israel?

Yet in seductive and dangerous surroundings, with the rumbling of violence and change in the air, in a part of the world where "there are no modern times," mother and son become new, old, and surprising versions of themselves.

Funny, erotic, searingly insightful, and profoundly moving, Faith for Beginners is a stunning debut novel from a vibrant new voice in fiction.
About the Author
Aaron Hamburger is the author of the short-story collection The View from Stalin's Head, for which he was awarded the Rome Prize by The American Academy of Arts and Letters. He was awarded a fellowship from the Edward F. Albee Foundation and won first prize in the David Dornstein Memorial Creative Writing Contest for Young Adult Writers. His writing has appeared in The Village Voice, Out, Nerve, and Time Out New York. He teaches writing at Columbia University and lives in New York City.
Praise For Faith for Beginners: A Novel…
"Aaron Hamburger takes a deceptively simple situation–an American family visiting Israel–and spins a rich, complex, often profound comedy about religion, sex, politics, and love. He has an excellent eye and ear for the absurd, but more important, genuine sympathy for the hopes and confusions all people share under our cartoon surfaces. And nobody has written a better mother and son."
–Christopher Bram, author of Lives of the Circus Animals and Gods and Monsters

"Aaron Hamburger elucidates a truth about the search for faith: that the journey forward is seldom blissful. In Faith for Beginners, Hamburger peoples a volatile political setting with a handful of characters pursuing transcendence–through culture, through mortality, through the spirit, through the flesh. For Hamburger's seekers, what transpires is risky, chaotic, and surprisingly tender. For his readers, exhilarating."
–Dave King, author of The Ha-Ha