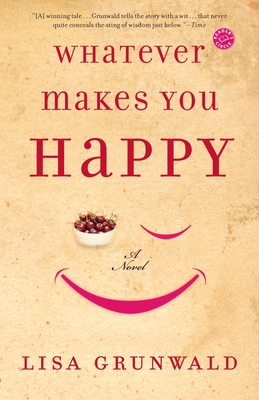 Whatever Makes You Happy (Paperback)
A Novel
Random House Trade Paperbacks, 9780812973211, 256pp.
Publication Date: August 8, 2006
* Individual store prices may vary.
Description
What does it take to be happy? How happy is happy enough? And what does "happy" mean, anyway? So asks Sally Farber–wife, mother, daughter, friend, working woman, and lover–in this wise and funny novel about a woman's search for happiness in some of the right, and a few of the wrong, places.

Summer in the city looms long for Sally Farber when she sends her two daughters off to camp for the first time. Suddenly freed of her usual patterns in a city that becomes a grown-up's playground,, she embarks on a journey unlike any she's ever had–filled with guilty pleasures and guilty pains.

Caught between the past (cleaning out her childhood apartment as her demanding mother offers edicts from South Carolina) and the future (facing her first semi-empty nest), Sally finds herself unexpectedly involved with a powerful, unpredictable man.

And as she researches a book whose very topic is happiness, she must weigh the relative merits of prescriptions for its attainment offered by Aristotle and the Dalai Lama, Freud and Charles Schulz, scented candles and Zoloft, her mother and her best friend. The answer comes, in the end, from a surprising discovery, in this rich and original novel about how we can find, and ultimately embrace, both happiness and love.


From the Hardcover edition.
About the Author
Lisa Grunwald is the author of the novels New Year's Eve, The Theory of Everything, and Summer. Along with her husband, Stephen Adler, she edited the anthologies Letters of the Century and the forthcoming Women's Letters. Grunwald is a former contributing editor of Life and a former features editor of Esquire. She and her husband live in New York City with their son and daughter.


From the Hardcover edition.
Praise For Whatever Makes You Happy: A Novel…
"A snappy, pleasant novel content with its own wit."
-- The New York Observer

"Grunwald tells the story with a wit. . . that never quite conceals the sting of wisdom just below. Perhaps it's no surprise that by the end of her well-turned and winning tale, we see and feel, as Farber does, that the pursuit of happiness is really nothing more than a recipe for misery." 
-- Pico Iyer, Time Magazine

"From Aristotle to Edith Wharton, from laughter therapy to bedoom farce, this novel is a dictionary of delights."
-- Cathleen Medwick, O, the Oprah Magazine

"Sally's quest for personal fulfillment allows Grunwald to muse on the roots of happiness, mining sources as diverse as Aristotle and Charles Schulz to present a porvocative array of answers. Whatever Makes You Happy is a satisfying portrait of upper-middle-class angst. But it is also the tale of a woman's pursuit of a life philosophy--and through that search, readers may discover stepping stones for their own."
-- Alissa Quart, More Magazine

"Grunwald's interweaving of scholarly quotations about happiness and excerpts of real-life research on the matter cleverly ground this novel, in which the main character is on the verge of spinning out of control as she searches for her own brand of happiness. Chock-full of penetrating and wry perceptions, this novel is recommended for all public libraries."
-- Library Journal

"Attempting to fool everyone, but especially herself, into believing that she's only 'researching' the pursuit of happiness, Sally Farber searches for that ephemeral quality in all sorts of droll places–from the writings of Voltaire to the Laughter Institute to the bed of a famous artist. To no one's surprise, she learns that what does not lie within remains elusive without. And as Lisa Grunwald's odyssey of slapstick erudition unfolds, Sally seems stubbornly fated to remain without her heart's desire, until the very last page is turned. This book comprises the best of both reads: a serious romp, and a saucy philosophical sashay."
-- Jacquelyn Mitchard, author of The Deep End of the Ocean and The Breakdown Lane

"Smart and exceedingly charming."
-- W Magazine

"Grunwald explores the meaning of happiness, drawing inspiration from poets and pop icons…readers may find themselves considering what underlies their own happiness–and what they would risk to find more."
-- People Magazine

Praise for Lisa Grunwald
"Her poetic gift for language, her sympathy for her characters, and her knowledge of how their emotions grow, shift, and collide all work together to help realize the large ambitions of this novel."
–Michiko Kakutani, The New York Times, about The Theory of Everything


"Beautiful, bizarre, and breathtaking . . . Harrowing in its pace, fearless in its depiction of the most tender emotions, this is a novel of exquisite grace. . . . A mesmerizing celebration of family love in all its sweetness and ferocity."
–TK, Chicago Tribune, about New Year's Eve


From the Hardcover edition.
or
Not Currently Available for Direct Purchase