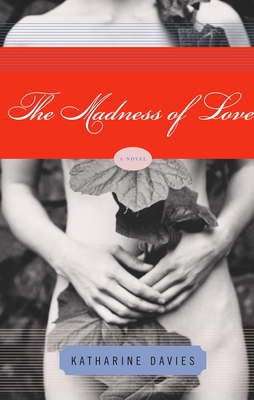 The Madness of Love (Paperback)
A Novel
Random House Trade Paperbacks, 9780812973280, 272pp.
Publication Date: January 11, 2005
* Individual store prices may vary.
Description
With a sophistication and mischievousness remarkable for a first-time novelist, Katharine Davies takes inspiration from Shakespeare's Twelfth Night and raises the curtain on the interconnecting lives and loves of an unforgettable cast of characters. By turns comic and moving, The Madness of Love is a deftly woven tale of mistaken identity, bold moves, and unrequited desires.

Valentina, a clerk in a London bookstore, is still reeling after her twin brother broke a childhood promise and ran off without her to exotic lands. When she cuts her hair, masquerades as a gardener to the melancholic Leo, and moves to the remote seaside town of Illerwick, she perplexes even herself.

Leo dreams of restoring his estate's gardens to their former glory as a romantically naïve gesture toward the woman he's loved all his life: Melody, an English teacher whose beauty bewitches many others. Melody rejects any attempt at capture; she is locked in a state of mourning over the suicide of her dear brother.

As Valentina struggles with the decades-old neglect of flowers, plants, and weeds, her affection for her eccentric employer grows, even as she helps him plot his overture to Melody. The gardens must be made ready for a grand late-summer party. But between now and then, Illerwick will stir with old longings and new desires. As people fall dangerously for those incapable of reciprocating, we see, enchantingly, how our misguided pursuit of passion often distracts us from finding real love.
About the Author
KATHARINE DAVIES grew up in Warwickshire and studied English and drama at the University of London. She taught English for several years, including a period in Sri Lanka, before receiving an M.A. in creative writing. The Madness of Love is her first novel, and she is currently at work on her second.
Praise For The Madness of Love: A Novel…

Advance praise for The Madness of Love

"Davies has written a wonderful first novel about the lives of star-crossed lovers whose foibles and failings and mad, mad hearts stir up equal doses of trouble and passion. The Madness of Love is a lush tragicomic tale that is satisfying, smart, and oh-so-spicy."
–Connie May Fowler, author of The Problem with Murmur Lee and Before Women Had Wings

"Quirky characters, real passion, and a jaw-dropping masquerade–what more could a reader ask for? Davies's first novel is funny and heartbreaking by turns, a clever, modern take on Shakespeare, and the perfect introduction to a talented new writer."
–Darin Strauss, author of Chang and Eng and The Real McCoy

Praise in England for The Madness of Love

"Davies plays with the plot of Twelfth Night, changing it as it suits her. . . . The artifice of the whole conceit, this dextrous shifting between the plausible and implausible, is what gives [The Madness of Love] its hallucinatory quality; its texture of changeable taffeta."
–The Independent

"Davies is a very promising writer with an eye for a good image, and with the ability to cast a disturbing air of enchantment over proceedings."
–The Guardian

"[The Madness of Love] turns upon a genuine tragedy, but tinged with enchantment. . . . [Davies has] a light, confident touch, and exquisite pacing."
–The Observer

"Davies admirably conjures up the wild beauty of Illerwick's coastal landscape . . . [and] what does come across rather well is a wistful sense of the end of youth." --Literary Review
or
Not Currently Available for Direct Purchase