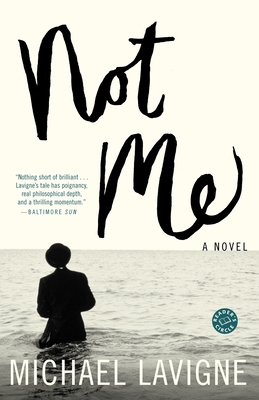 Not Me
A Novel
Paperback

* Individual store prices may vary.
Description
Not Me is a remarkable debut novel that tells the dramatic and surprising stories of two men–father and son–through sixty years of uncertain memory, distorted history, and assumed identity. When Heshel Rosenheim, apparently suffering from Alzheimer's disease, hands his son, Michael, a box of moldy old journals, an amazing adventure begins–one that takes the reader from the concentration camps of Poland to an improbable love story during the battle for Palestine, from a cancer ward in New Jersey to a hopeless marriage in San Francisco. The journals, which seem to tell the story of Heshel's life, are so harrowing, so riveting, so passionate, and so perplexing that Michael becomes obsessed with discovering the truth about his father. As Michael struggles to come to grips with his father's elusive past, a world of complex and disturbing possibilities opens up to him–a world in which an accomplice to genocide may have turned into a virtuous Jew and a young man cannot recall murdering the person he loves most; a world in which truth is fiction and fiction is truth and one man's terrible–or triumphant–transformation calls history itself into question. Michael must then solve the biggest riddle of all: Who am I?Intense, vivid, funny, and entirely original, Not Me is an unsparing and unforgettable examination of faith, history, identity, and love.
Praise For Not Me: A Novel…
Advance praise for Not Me"What a daring, even dangerous, act of the imagination this novel is! Not Me challenges one emotionally and intellectually. It's that rare phenomenon: a philosophical thriller that will draw you in and leave you arguing furiously with yourself after you're done."–Ron Rosenbaum, author of Explaining Hitler "A novel with a powerfully unsettling moral conundrum at its heart: Is radical evil indelible; can anything undo it? But what philosophy cannot resolve, storytelling triumphantly can. Lavigne's radiantly imagined portrait of human possibility never obscures the blackest abyss of real history, and his Heshel Rosenheim emerges with all the complexity of a modern Raskolnikov."–Cynthia Ozick, author of Heir to the Glimmering World"Michael Lavigne has an immensely powerful story to tell of guilt and redemption. Beyond its riveting plot, Not Me is a novel about the loss and recovery of love. In this sense it reminded me of Dickens's Great Expectations: Heshel Rosenheim is as mysterious and haunting as Magwitch, and the lesson that his uncanny life imparts to his son, and to Lavigne's readers, is on a grand human scale, and unforgettable."–Jonathan Wilson, author of A Palestine Affair "Family secrets, awful historical truths, the nature of good and evil, and the bond between a son and his father are woven seamlessly into a page-turning plot. Michael Lavigne writes with generosity of heart and he leaves the reader with an abundance of hope. Not Me is a powerful debut novel."–Binnie Kirshenbaum, author of An Almost Perfect Moment "A disturbing yet surprisingly tender read that grips the reader from page 1 and never lets go. Michael Lavigne tells his intriguing story with intelligence, sensitivity, and flashes of scintillating wit. What more could you ask from a novel?"–Aaron Hamburger, author of Faith for Beginners
Random House Trade Paperbacks, 9780812973327, 336pp.
Publication Date: February 13, 2007
About the Author
Michael Lavigne was born in Newark, New Jersey. He began seriously writing fiction only at midlife and was a participant of the Squaw Valley Community of Writers. Not Me is his first novel, and he is currently working on his second, set in Moscow, where he once lived. He lives in San Francisco with his wife, Gayle.
or
Not Currently Available for Direct Purchase