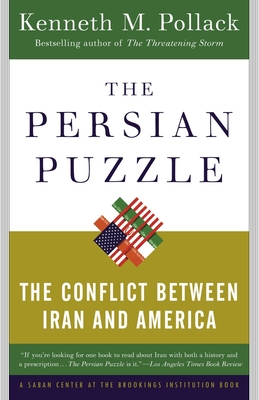 The Persian Puzzle: The Conflict Between Iran and America (Paperback)
The Conflict Between Iran and America
Random House Trade, 9780812973365, 539pp.
Publication Date: August 9, 2005
Description
In his highly influential book The Threatening Storm, bestselling author Kenneth Pollack both informed and defined the national debate about Iraq. Now, in The Persian Puzzle, published to coincide with the twenty-fifth anniversary of the Iran hostage crisis, he examines the behind-the-scenes story of the tumultuous relationship between Iran and the United States, and weighs options for the future. Here Pollack, a former CIA analyst and National Security Council official, brings his keen analysis and insider perspective to the long and ongoing clash between the United States and Iran, beginning with the fall of the shah and the seizure of the American embassy in Tehran in 1979. Pollack examines all the major events in U.S.-Iran relations-including the hostage crisis, the U.S. tilt toward Iraq during the Iran-Iraq war, the Iran-Contra scandal, American-Iranian military tensions in 1987 and 1988, the covert Iranian war against U.S. interests in the Persian Gulf that culminated in the 1996 Khobar Towers terrorist attack in Saudi Arabia, and recent U.S.-Iran skirmishes over Afghanistan and Iraq. He explains the strategies and motives from American and Iranian perspectives and tells how each crisis colored the thinking of both countries' leadership as they shaped and reshaped their policies over time. Pollack also describes efforts by moderates of various stripes to try to find some way past animosities to create a new dynamic in Iranian-American relations, only to find that when one side was ready for such a step, the other side fell short. With balanced tone and insight, Pollack explains how the United States and Iran reached this impasse; why this relationship is critical to regional, global, and U.S. interests; and what basic political choices are available as we deal with this important but deeply troubled country. From the Hardcover edition.
About the Author
KENNETH M. POLLACK is director of research at the Saban Center for Middle East Policy at the Brookings Institution. From 1995 to 1996 and from 1991 to 2001, he served as director for Gulf affairs at the National Security Council, where he was the principal working-level official responsible for implementation of U.S. policy toward Iran. Prior to his time in the Clinton administration, he spent seven years in the CIA as a Persian Gulf military analyst. He is the author of The Threatening Storm and Arabs at War. He lives in Washington, D.C. From the Hardcover edition.
Praise For The Persian Puzzle: The Conflict Between Iran and America…
Praise for Kenneth M. Pollack and The Threatening Storm

"It is fair to say that whatever your feelings about the question of Iraq, you owe it to yourself to read Mr. Pollack's book, which is both hawkish and judicious. . . . Mr. Pollack has written a timely book that should be read as the public debate on Iraq continues."
–RICHARD BERNSTEIN, The New York Times

"Pollack manages to eschew the cant, stupidity, and obfuscation which are the common currency of much of the current public debate over Iraq policy and has produced one of the key books–probably the key book–for anyone trying to grapple with the Iraq question."
–JOSHUA MICAH MARSHALL, The Washington Monthly

"The Threatening Storm is both a primer on Iraq and a fascinating insider's view of American attempts to meet the threat it poses."
–ASLA AYDINTASBAS, The Wall Street Journal

"Knowledgeable, convincingly argued, well documented."
–DOUGLAS PORCH, The Washington Post Book World
Advertisement