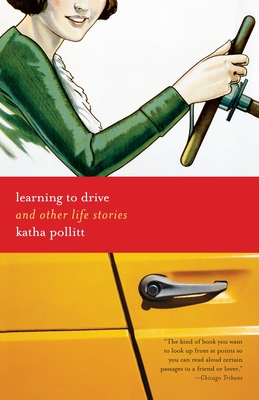 Learning to Drive: And Other Life Stories (Paperback)
And Other Life Stories
Random House Trade, 9780812973549, 207pp.
Publication Date: September 9, 2008
Description
"Learning to Drive" Now a major motion picture starring Patricia Clarkson and Ben Kingsley
Celebrated for her award-winning political columns, criticism, and poetry, Katha Pollitt now shows us another side of her talent. "Learning to Drive" is a surprising, revealing, and entertaining collection of essays drawn from the author's own life.
With deep feeling and sharp insight, Pollitt writes about the death of her father; the sad but noble final days of a leftist study group of which she was a member; and the betrayal and heartbreak inflicted by a man who seriously deceived her. (Her infinitely patient, gentle driving instructor points out her weakness Observation, Katha, observation ) She also offers a candid view of her preoccupation with her ex-lover's haunting presence on the Internet, and her search there for a secret link that might provide a revelation about him that will Explain Everything.
Other topics include the differences between women and men More than half the male members of the Donner party died of cold and starvation, but three quarters of the females survived, saved by that extra layer of fat we spend our lives trying to get rid of and the practical implications of political theory: What if socialism all that warmhearted folderol about community and solidarity and sharing was just an elaborate con job, a way for men to avoid supporting their kids?
"Learning to Drive" demonstrates that while Katha Pollitt is undeniably one of our era's most profound observers of culture, society, and politics, she is just as impressively a wise, graceful, and honest observer of her own and others human nature.
Praise for "Learning to Drive"
""
The kind of book you want to look up from at points so you can read aloud certain passages to a friend or lover. "Chicago Tribune"
A powerful personal narrative . . . full of insight and charm . . . Pollitt is her own Jane Austen character . . . haughty and modest, moral and irresponsible, sensible and, happily for us, lost in sensibility. "The New York Review of Books"
With . . . bracing self-honesty, Pollitt takes us through the maddening swirl of contradictions at the heart of being fifty-something: the sense of slowing down, of urgency, of wisdom, of ignorance, of strength, of helplessness, of breakdown, of renewal. "The Seattle Times"
""
Essays of breathtaking candor and razor-sharp humor . . . Pollitt] has outdone herself. . . . Her] observations are acute and her confessions tonic. Forget face-lifts; Pollitt's essays elevate the spirit. "Booklist "(starred review)
Candid, confessional prose . . . But even at her most intimate, Pollitt] manages to infuse her tales of dissatisfaction and heartbreak with levity and humor. "San Francisco Chronicle"
""
Pitch perfect . . . painfully hilarious to read. "The Boston Globe"
"From the Hardcover edition.
About the Author
Katha Pollitt is the author of the essay collections "Learning to Drive, Virginity or Death!, Subject to Debate, "and "Reasonable Creatures" and is a poet, essayist, and columnist for "The Nation." She has won many prizes and awards for her work, including the National Book Critics Circle Award for her first collection of poems, "Antarctic Traveller, "and two National Magazine Awards for essays and criticism. She lives in New York City. "From the Hardcover edition."
Advertisement