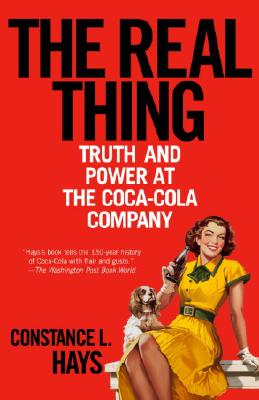 The Real Thing (Paperback)
Truth and Power at the Coca-Cola Company
Random House Trade Paperbacks, 9780812973648, 432pp.
Publication Date: April 12, 2005
* Individual store prices may vary.
Description
The Real Thing is a portrait of America's most famous product and the people who transformed it from mere soft drink to symbol of freedom. With fresh insights and a penetrating eye, New York Times reporter Constance L. Hays examines a century of Coca-Cola history through deft portraits of the charismatic, driven men who used luck, spin, and the open door of enterprise to turn a beverage with no nutritional value into a remedy, a refreshment, and an international object of consumer desire. The rise of Coke is also a catalog of carbonation, soda fountains, dynastic bottling businesses, global expansion, and outsize promotional campaigns, not all of which succeeded. By examining relationships at every level of the company, Hays reveals the psyche of a great American corporation–and also tells a larger story about business and this nation's culture.
About the Author
Constance L. Hays has worked as a reporter for The News and Observer in Raleigh, North Carolina, and, since 1986, for The New York Times, where she covered the food and beverage industry for three years. She lives in New York City with her husband, John A. Hays, and their three children.
Praise For The Real Thing: Truth and Power at the Coca-Cola Company…
"Tells the 130-year history of Coca-Cola with flair and gusto.... The Real Thing is also a primer on the perils that come with decades of seemingly limitless growth."
–The Washington Post Book World

"[A] gripping account . . . [Hays] has a novelist's flair for conveying her characters' thoughts. . . . She recounts Coca-Cola history and lore in fascinating detail."
–The New York Times

"Fascinating and revealing . . . This extremely well researched, surprisingly entertaining saga is told almost like a novel with a broad panorama and [a] memorable cast."
–The Miami Herald

"Totally engaging . . . highly enjoyable . . . a compelling, well-documented history of the drink that has refreshed the world for 118 years."
–The Philadelphia Inquirer


"Before the Golden Arches, red-and-white Coca-Cola signs were the most ubiquitous symbols of American consumerism on the planet. Constance Hays tells the story of how Coke got its ?zz—and then almost lost it—in sparkling prose that's both sweet and tart, just like the pop."
—Sylvia Nasar, author of A Beautiful Mind

"The Real Thing brings the story of one of America's oldest commercial and cultural icons up to date—a tale of power, ego, and money inside one of the world's largest companies. With a journalist's investigative skills and a strong narrative voice, Constance Hays puts the reader inside the minds of Coca-Cola's top executives and fanatic consumers, showing how the modern, ever-changing global business world works through the simplest of products. Thoroughly researched and compellingly written, taking you through incredible triumphs and massive blunders, The Real Thing is a fascinating read."
—Joël Glenn Brenner, author of The Emperors of Chocolate: Inside the Secret World of Hershey & Mars

"[Hays] ably makes the point that there's no comparison for the emotional connection that people in America and around the world have with a Coke....She also recounts with a proper sense of tragedy the sad blunders of the last few years that have practically unmade the company....Gripping material, dramatically told."
—Kirkus Reviews
or
Not Currently Available for Direct Purchase