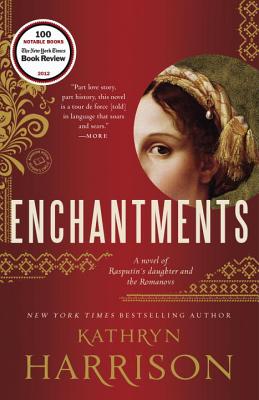 Enchantments (Paperback)
A novel of Rasputin's daughter and the Romanovs
Random House Trade Paperbacks, 9780812973778, 352pp.
Publication Date: February 26, 2013
Other Editions of This Title:
Digital Audiobook (3/5/2012)
Hardcover (3/6/2012)
Hardcover, Large Print (4/1/2012)
Paperback (8/1/2012)
Paperback (3/1/2012)
* Individual store prices may vary.
Description
A NEW YORK TIMES NOTABLE BOOK

"Part love story, part history, this novel is a tour de force [told] in language that soars and sears."—More
 
St. Petersburg, 1917. After Rasputin's body is pulled from the icy waters of the Neva River, his eighteen-year-old daughter, Masha, is sent to live at the imperial palace with Tsar Nikolay and his family. Desperately hoping that Masha has inherited Rasputin's healing powers, Tsarina Alexandra asks her to tend to her son, the headstrong prince Alyosha, who suffers from hemophilia. Soon after Masha arrives at the palace, the tsar is forced to abdicate, and the Bolsheviks place the royal family under house arrest. As Russia descends into civil war, Masha and Alyosha find solace in each other's company. To escape the confinement of the palace, and to distract the prince from the pain she cannot heal, Masha tells him stories—some embellished and others entirely imagined—about Nikolay and Alexandra's courtship, Rasputin's exploits, and their wild and wonderful country, now on the brink of an irrevocable transformation. In the worlds of their imagination, the weak become strong, legend becomes fact, and a future that will never come to pass feels close at hand.
 
Praise for Enchantments

"A sumptuous, atmospheric account of the last days of the Romanovs from the perspective of Rasputin's daughter, [told] with the sensuous, transporting prose that is Kathryn Harrison's trademark."—Jennifer Egan
 
"[A] splendid and surprising book . . . Harrison has given us something enduring."—The New York Times Book Review
 
"[Harrison delivers] this oft-told moment with shocking freshness. . . . Masha re-invents our ideas of Rasputin, and the world of Nicholas and Alexandra is imbued with a glow whose fierceness is governed by the imminence of its loss."—Los Angeles Times
 
"A mesmerizing novel."—O: The Oprah Magazine
 
"Bewitching . . . Harrison sets historic facts like jewels in this intricately fashioned work of exalted empathy and imagination, a literary Fabergé egg. . . . [A] dazzling return to historical fiction."—Booklist (starred review)

Look for special features inside. Join the Random House Reader's Circle for author chats and more.
About the Author
Kathryn Harrison has written the novels Thicker Than Water, Exposure, Poison, The Binding Chair, The Seal Wife, and Envy. Her autobiographical work includes The Kiss, Seeking Rapture, The Road to Santiago, and The Mother Knot. She has also written a biography, St. Thérèse of Lisieux, and, most recently, a book of true crime, While They Slept: An Inquiry into the Murder of a Family. She lives in New York with her husband, the novelist Colin Harrison, and their three children.
Praise For Enchantments: A novel of Rasputin's daughter and the Romanovs…

"[A] splendid and surprising book....Kathryn Harrison has given us something enduring – the last romantic figure of the [Romanov] era, a whip-cracking circus girl who was once an intimate part of a dying empire."
--New York Times Book Review
 
"Part love story, part history, this novel is a tour de force....[told] in language that soars and sears."
--More
 
"A mesmerizing novel."
--O, The Oprah Magazine
 
"Kathryn Harrison triumphantly returns to her historical fiction roots with Enchantments, the sweeping (and wholly imagined) story of love between two unlikely allies....Harrison takes a particular moment in time and brings it to stunning life....re-imagining history—and a love story—in a completely new way."
--Bookpage
 
"A surreal tale fueled by a legendarily randy real-life healer and his lion-taming daughter....A scrupulously researched retelling of the fiery end of Russia….Most of all, Enchantments is about the irreducible mysteries of human motivation."
--Elle

"A sumptuous, atmospheric account of the last days of the Romanovs from the perspective of Rasputin's daughter, Enchantments animates a kaleidoscopic breadth of historical detail with the sensuous, transporting prose that is Kathryn Harrison's trademark."
--JENNIFER EGAN, author of A Visit From the Goon Squad

"Ask yourself who, in all the world, would be the best novelist to imagine being Rasputin's daughter. Kathryn Harrison makes the answer obvious. Her Enchantments is a stupendous work of historical imagination."
—PETER CAREY, author of Parrot and Olivier in America
 
"Kathryn Harrison locates within the crevices of history moments of poetry and passion that electrify the reader. In Enchantments, Ms. Harrison takes us on a magic carpet ride to Russia one hundred years ago, and with perfect grace, impeccable style, and great narrative flair, she gives us a whole wounded world that is for the course of this utterly compelling novel as real as our own lives. Actually: more."
—SCOTT SPENCER, author of Man in the Woods and Endless Love
 
"Enchantments is wonderful: fascinating, informative, historically persuasive, and full of sympathy and tenderness for its endearing characters. This is Kathryn Harrison at her lyrical best."
—RON HANSEN, author of A Wild Surge of Guilty Passion 

"[A] bewitching historical novel about the infamous demise of a legendary dynasty....Harrison sets historic facts like jewels in this intricately fashioned work of exalted empathy and imagination, a literary Fabergé egg....[A] dazzling return to historical fiction"
—Booklist (starred review)
or
Not Currently Available for Direct Purchase