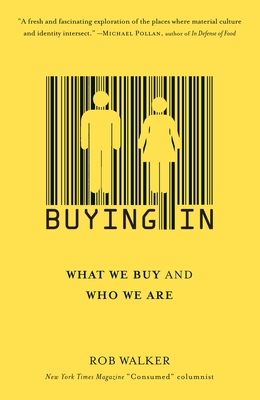 Buying in: What We Buy and Who We Are (Paperback)
What We Buy and Who We Are
Random House Trade, 9780812974096, 291pp.
Publication Date: January 5, 2010
Description
Brands are dead. Advertising no longer works. Consumers are in control. Or so we're told. In Buying In, Rob Walker argues that this accepted wisdom misses a much more important cultural shift, including a practice he calls murketing, in which people create brands of their own and participate, in unprecedented ways, in marketing campaigns for their favorites. Yes, rather than becoming immune to them, we are rapidly embracing brands. Profiling Timberland, American Apparel, Pabst Blue Ribbon, Red Bull, iPod, and Livestrong, among others, Walker demonstrates the ways in which buyers adopt products not just as consumer choices but as conscious expressions of their identities. Part marketing primer, part work of cultural anthropology, Buying In reveals why now, more than ever, we are what we buy--and vice versa.

About the Author
Rob Walker writes the weekly column "Consumed," a blend of business journalism and cultural anthropology, for The New York Times Magazine. Previously, he created and wrote the popular "Ad Report Card" column for Slate, and he has contributed to a wide range of publications, from Fast Company and Fortune to The New Republic and AdBusters. Walker continues to write about the secret dialogue between what we buy and who we are at his own website, Murketing.com. He lives in Savannah, Georgia, with his wife, photographer Ellen Susan. From the Hardcover edition.
Praise For Buying in: What We Buy and Who We Are…
"A fresh and fascinating exploration of the places where material culture and identity intersect."—Michael Pollan, author of In Defense of Food

"A compelling blend of cultural anthropology and business journalism."—Time

"Few observers have plumbed the subterranean poetry of marketing as thoroughly as Walker."—New York Times Book Review

"Superbly readable . . . a thoughtful and unhurried investigation into consumerism . . . marked by meticulous research and careful conclusions."—Publishers Weekly, starred review
 
"Witty . . . Walker unravels what he calls the Desire Code, that tension between wanting to fit in and wanting to stand out, wanting to be unique and yet somehow attached to something greater than ourselves."—Times-Picayune
 
"Provocative . . . richly reported."—USA Today
 
"Fascinating."—Newsweek
 
"Terrific."—Miami Herald

Advertisement