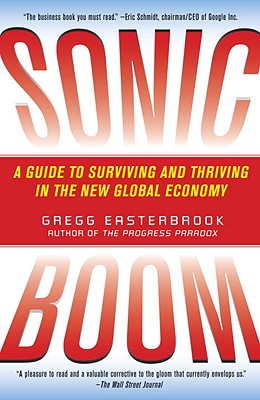 Sonic Boom (Paperback)
Globalization at Mach Speed
Random House Trade, 9780812974133, 243pp.
Publication Date: January 11, 2011
* Individual store prices may vary.
or
Not Currently Available for Direct Purchase
Description
What can a spell-checker tell you about economic trends? Why is the world's supply of ideas about to double? What did America get right in the nineteenth century that it's getting wrong in the twenty-first? If Karl Marx were alive today, would he be hosting a show on Fox News? These are just a few of the provocative questions asked by Sonic Boom, a (mainly) optimistic look at the near future. Sonic Boom tells why the world's economy is likely to be just fine, with prosperity increasing; why globalization will soon drive us even crazier than it does today; why "a chaotic, raucous, unpredictable, stress-inducing, free, prosperous, well-informed, and smart future is coming." The book is rich with specific examples and advice on how to navigate your own way through the craziness that's ahead. Forbes calls Gregg Easterbrook "the best writer on complex topics in the United States," and Sonic Boom will show you why.
About the Author
Gregg Easterbrook is the author of six books, including The Progress Paradox. He is a contributing editor to The Atlantic, for which he has written more than a dozen cover stories, and The New Republic. His articles have appeared in The New York Times and Los Angeles Times, as well as on the covers of Newsweek and Time. He has appeared on Today, Larry King Live, Nightline, CBS Morning News, All Things Considered, The NewsHour with Jim Lehrer, The Diane Rehm Show, and The O'Reilly Factor. And as a hobby, he writes the "Tuesday Morning Quarterback" football column for ESPN.com. He lives near Washington, D.C., with his wife and three children. From the Hardcover edition.
Praise For Sonic Boom: Globalization at Mach Speed…
"The business book you must read."—Eric Schmidt, chairman/CEO of Google Inc.
 
"A pleasure to read and a valuable corrective to the gloom that currently envelops us."—The Wall Street Journal

"If you read Thomas Friedman's The World Is Flat, you must read Sonic Boom, because this book is the next step."—Tyler Cowen, Holbert C. Harris Professor of Economics at George Mason University and co-founder of Marginal Revolution

"Easterbrook [is] always a writer worth reading. . . . He rarely fails to surprise."—Chicago Sun-Times
 
"[A] new set of thought-provoking observations and forecasts on things economic, political and cultural."—Fort Worth Star-Telegram
 
"Refreshing . . . more about boom and less about gloom and doom."—Associated Press
 
"Sonic Boom is the thinking person's Future Shock."—Carl Schramm, president, Ewing Marion Kauffman Foundation
Advertisement