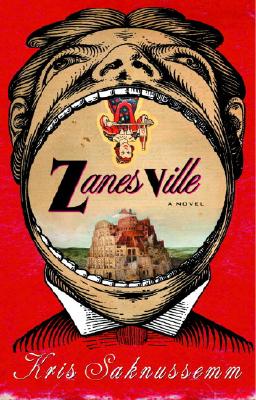 Zanesville (Paperback)
A Novel
Villard, 9780812974164, 496pp.
Publication Date: October 11, 2005
* Individual store prices may vary.
Description
WHO IS ELIJAH CLEARFATHER?

Futuristic bioweapon or good old-fashioned messiah? Reincarnated ex-porn star or mutant information-age revolutionary? The man who awakens in New York City's Central Park with no memory of his identity and the enigmatic message FATHER FORGIVE THEM F carved into the flesh of his back may be all of these things and more.

Taken in (and then expelled) by a group of freedom fighters battling the soul-deadening Vitessa Cultporation, Clearfather is a stranger in an even stranger land. Following tantalizing clues that point to the gnomic Stinky Wiggler, and pursued by murderous Vitessa agents, Clearfather embarks on a surreal odyssey of self-discovery across an America that resembles a vast amusement park designed by some unholy trinity of Walt Disney, Hunter S. Thompson, and Hieronymus Bosch.

Accompanying Clearfather is an unforgettable cast of characters–including Aretha Nightingale, an ex-football-playing drag queen; Dooley Duck and Ubba Dubba, hologram cartoon characters sprung outrageously to life; and the ethereally beautiful Kokomo, whose past is as much a mystery as Clearfather's own.

By turns hilarious and deeply moving, a savage, fiercely intelligent satire that is also a page-turning adventure and a transcendent love story, Zanesville marks the arrival of a brilliant new voice in fiction.
About the Author
Kris Saknussemm was born and educated in America and had a predictable range of odd jobs in his youth: factory worker, forklift driver, hospital orderly, counselor at a camp for the blind and the circulation manager for an adult newspaper. For most of his mature life he has lived abroad, primarily in Australia.

Following an aborted doctorate program in the History and Philosophy of Science, he turned to the study of anthropology, studying the Cargo Cult religions of Melanesia. As the result of an hallucinogenic experience on the island of Tanna in Vanuatu, he came to the conclusion that he did not sufficiently understand the role religion played in his own culture to be credibly investigating and analyzing the beliefs of another, and so abandoned academia.

He turned to advertising and mass communications for a living, while continuing to write fiction and poetry. Founder of the guerilla theater group called the False Frontier Society, he staged a series of "resurrection performances" in derelict industrial sites in Melbourne and Sydney, until a near fall from scaffolding almost claimed his life.

He now divides his time between a rural property in the old goldfields region outside Melbourne and the West Coast of America. A painter and sculptor as well as writer, he has been a resident at the MacDowell Colony and is a member of the Science Fiction and Fantasy Writers of America.

Zanesville is his first novel and the first in a proposed series of works he calls The Lodemania Testament.
or
Not Currently Available for Direct Purchase